How do I know it's the doldrums of the NBA offseason has kicked off? I'm about to show you a photo (via cbssports.com) of Thunder's Kevin Durant wearing a Chicago Bulls cap.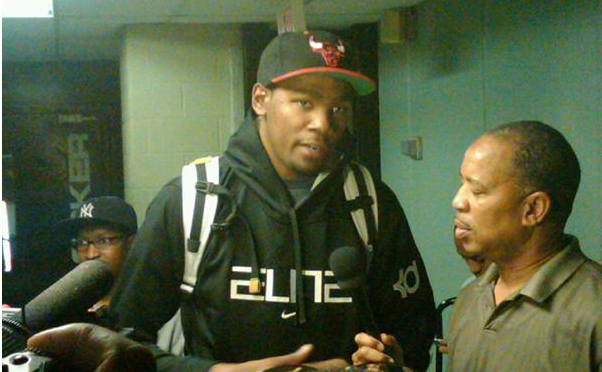 Now before you Bulls fans think this is a subtle sign that Durant wants to join Chicago and Derrick Rose to form a formidable duo, Durant's locked up in Oklahoma City for quite sometime.
Many NBA players sport other team gear and of course the media gets whipped up into a fury reporting this is a sign of things to come from the player. LeBron James wore a New York Yankees cap before he decided to take his talents to South Beach much to the chagrin of Knicks fans.
And for fans of players see their favorite baller wearing another team's jersey, most of the time the reaction is, "Oh that doesn't look right at all." However, is it me or does that Bulls cap actually kind of fit Durant?
So breathe easy Thunder fans. You know Durant isn't going to another team and he still has that backpack look going. A look that I never understood.