Kevin Pritchard and Rich Cho will forever be connected.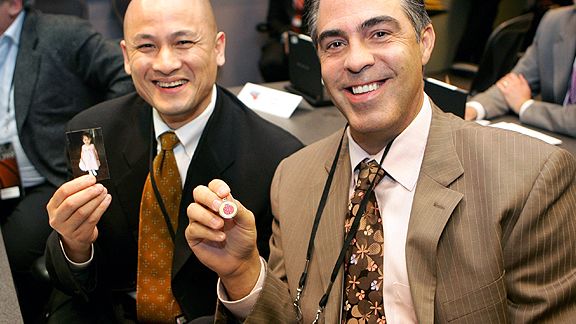 Their common bond dates back to 2007 when Pritchard, serving then as the Portland Trail Blazers general manager, drafted Greg Oden as the first pick in the NBA Draft. Cho, presiding over the draft for the Seattle Supersonics, helped select Kevin Durant.
We all know how that one played out.
But no one could fathom how Pritchard and Cho would one day reconnect in the most unfortunate of relationships linked to Blazers owner Paul Allen and his itchy trigger finger in Portland with GM's. One draft night in June 2010, Allen fired Pritchard only to turn around and hire Cho. Less than a year after taking over for Pritchard in May, Cho was dismissed after serving as GM for just 10 months.
Today, both Pritchard and Cho have moved on in their basketball careers in the NBA, surely finding peace after the front office whirlwind that still swirls around the Blazers, who have yet to name a full-time GM since.
Don't be surprised if the Blazers (with Chad Buchanan serving in an "acting" role) go the entire season without naming a replacement.
The two men that previously held the position couldn't be more different personality wise. Cho – an introvert by nature and slow to go on the record with the press – holds the position as general manager of the Charlotte Bobcats. Pritchard – a people person who is generously open with the media – now serves as director of player personnel with the Indiana Pacers.
Yet, there's another connection between the two: they are part of a rebuilding and revamping process with their respective teams.
"I thought about taking a step back and teaching at a law school, or coaching high school tennis," Cho said in an interview with Kerry Eggers of the Portland Tribune.
"After I met with Rod (Higgins, Bobcats President) and (Charlotte's ownership/management team), I jumped at the opportunity."
Cho received a call from the Charlotte Bobcats the day after being fired from the Blazers and took the job soon after. Under Cho, Portland signed Gerald Wallace and the athletic Chris Johnson on the cheap. With the Bobcats he's the No. 2 guy behind Higgins and lends his expertise on player personnel, salary cap, accounting and contracts and will scout both college and pro talent during the season, as he begins to "overhaul the Bobcats' scouting system".
Cho believes Charlotte will have around $20 million in salary-cap space next summer, part of a redefining phase in the organization that included selecting both Bismack Biyombo and Kemba Walker in June's NBA Draft.
"We are trying to build the team similarly to how we built it in OKC. We want to have sustained success, not just make the playoffs every few years and then be one-and-done in the playoffs," added Cho.
Pritchard can relate.
He is at ease and fully in-tune with the present in Indiana instead of the past drama from his final days in Portland. Last season Larry Bird asked Pritchard – his former teammate with the Boston Celtics – to accompany the Pacers on a road trip to play the Golden State Warriors in an advisory role, which eventually morphed into Pritchard's current position with the team.
"I focus on nothing but basketball," said Pritchard, in a separate interview with the Portland Tribune.
Pritchard is a road warrior these days scouting college, pro and international players in anticipation for the draft, trades and free agency. He wasn't without his front office suitors before agreeing with the Pacers, that's for sure. There was talk he might actually return to Portland, and the New York Knicks also courted Pritchard heavy dating back prior to the hiring of the since departed Donnie Walsh.
"In the GM position, there are so many other things you have to watch and manage. I love doing that, but I also love what I'm doing now."
It was a busy past month for the Pacers, who signed David West and George Hill, brought in former Portland Trail Blazers forward Jeff Pendergraph, and traded for Lou Amundson to a young core if Tyler Hansbrough, Darren Collison and Danny Granger.
"I love watching the games, trying to find deals, evaluating talent, finding players. I think I do it better now because I've been a GM before. I know the expectations," explained Pritchard.
"I know what it is to sit in that seat. I feel better-prepared to fill that role."
The Bobcats and the Pacers – two teams on the come up.
Pritchard and Cho – two guys forever connected and at peace after Portland.