Former Boston Celtics player and soon-to-be former NBA TV/TNT Analyst has agreed in principle to become the next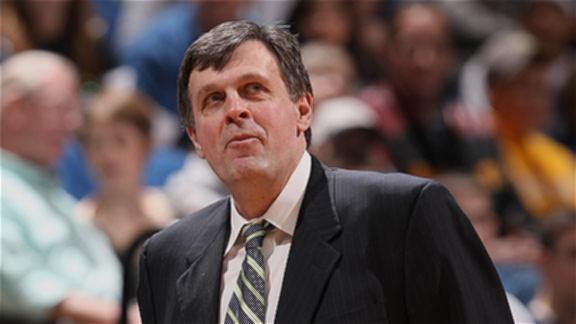 head coach of the Houston Rockets:
NBA.com has confirmed that Kevin McHale has agreed in principle to become the head coach of the Houston Rockets. NBA TV's pregame show tonight at The Finals in Miami addressed the NBA.com report. McHale is an analyst for NBA TV/TNT.
"I really enjoyed spending the last two years with Turner Sports, bringing the best NBA coverage possible to the viewers at home," said McHale. "Even though I'm moving back to the bench I'll still watch my friends on NBA TV and TNT. Turner's commitment to the NBA is part of the reason why the league is so special, and I look forward to seeing many of my former colleagues in the future."
"Kevin's experiences as a player, coach and general manager, coupled with his tremendous knowledge of the game and players, made him a terrific analyst for NBA TV and TNT," said David Levy, President of sales, distribution and sports, Turner Broadcasting System, Inc. "Our audience will miss his diverse perspective and terrific sense of humor. We wish Kevin the best of luck in his new role as head coach of the Houston Rockets."
"Kevin McHale is the best player I played against and I've really enjoyed working with him on TV this year," said Charles Barkley on NBA TV Autotrader.com Pregame Show. "We wish him the best."
Here is more from McHale:
McHale said he likes the Rockets' nucleus and their mix of young and old players. He said he was excited about the opportunity to work with Martin, Luis Scola, Kyle Lowry and the rest, and help a big man such as Hasheem Thabeet develop. "You've got enough young guys who really have got to improve and you can help them," he said.
Now the question becomes who will surround McHale on the bench as assistant coaches. One name that has surfaced recently was David Joerger from the Memphis Grizzlies among others.
As far as the announcement, this puts to end the speculation and now Houston and coach McHale can focus on improving a Rockets team that was on the verge of making the Western Conference playoffs.
And part of improving the Rockets comes next month at the 2011 NBA Draft where Houston will select at number 14.
(via Press Release Turner Sports)
(Photo: ESPN)