Once the NBA regular season kicks off later this week, it will mark the first time in NBA history a team will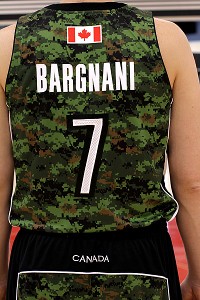 wear camouflage jerseys for a game.
And that honor will go to the Toronto Raptors.
The Raptors will be wearing camo jerseys at Canadian Forces Night in March 2012 as well as three more times later in the season.
However, the Raptors won't be the only team to showcase unique jerseys throughout the upcoming season.
According to ESPN's Page 2, here is a sampling of other unique jerseys teams will be trotting out.
• The Hornets will wear their Mardi Gras uniform for six consecutive games in February, running from Feb. 10 to Feb. 21.
• The Trail Blazers will wear their "Rip City" alternate uniform on March 18.
• Great news out of Utah, where the Jazz have a beautiful new green alternate (which is similar but not identical to what the team wore 30 years ago). They'll wear it for their home opener Dec. 30.
Also according to the report, most teams have a gag-order on their special jerseys such as the Timberwolves, Cavaliers and Clippers so fans can anticipate some pretty cool looking jerseys coming their way.
So get ready to shell out some cash if you are a die-hard fan of any particular NBA team. These will sure to be collector items and will most likely be seen on eBay for some ungodly asking price.