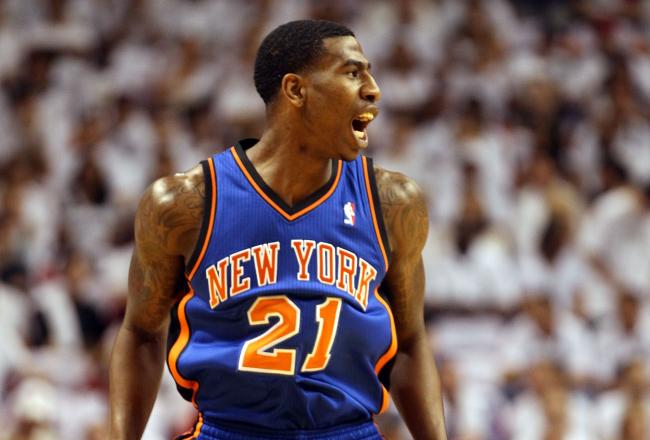 The New York Knicks are off to a great start, beginning 3-0 with double digit wins in all three games.
They are one of three teams left undefeated in the league and have been shutting down opponents on the defensive end and they have been doing so without Iman Shumpert, who was their best perimeter defender last season. Shumpert is currently rehabbing from knee surgery.
The New York Post's Marc Berman writes while some expected Sumpert back sometime in December, it is now looking like sometime in early 2013.
"What you all are saying is not what we're going by,'' Shumpert told The Post before last night's 110-88 victory over the 76ers that improved the Knicks to 3-0. "January, February is what we're aiming for. I'm just trying to get healthy. When I get healthy, I'll return to the court. I'm not going to come back and not be able to do the things I did last year and a little more. I want to come back and add something.''
Smart move by Shumpert. He is young and the Knicks are not winning a title this year anyways, so what is the harm in waiting an extra month or two to get back on the court? The worse thing that could happen to Shumpert is he comes back early and has a set back. The more interesting question is how Shump's return will affect the Knicks.
He is a plus defender, but during his rookie season was also a below average offensive player, especially when it comes to shooting. Does he start over Ronnie Brewer? Does that bump Brewer out of the Knicks rotation?
There is time to figure all of those questions out. Shumpert coming back will do more harm than good for sure. Let's just hope there is no pressure for him to rush by.
Photo credit: Bleacher Report