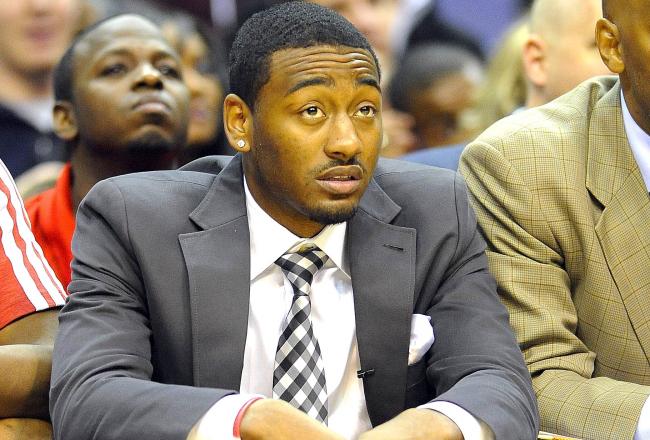 The Wizards have tanked this season with their star player on the shelf with an injury to his patella in his left knee.
The injury was supposed to keep him out temporarily. It was supposed to be a month on the shelf. A set back to the season, but not a disaster.
Well, Wall is still not back. He is still not playing. And the Wizards are facing a disaster at 3-20 and the worst record in the league.
And there is no timetable for Wall's return.
Wall told reporters Monday that he has been receiving injections in his knee to help deal with cartilage progblems beneath his knee cap. Wall erroneously told reporters that it was a stress fracture in his patella, which the Wizards said was incorrect.
Either way it does not bode well for Wall who does not know when he will come back. Wall explains:
You just hope it heals the right way, and I think I've been doing the right things I'm supposed to do: just rest, do my exercises, try to stay in shape as best as possible without going out there and injuring myself and hurting myself for the rest of my career. I want to be out there playing basketball with my teammates, but I just want to make sure I'm fully healthy.
Getting John Wall back would be step one in pointing the Wizards back on a winning direction. It is still not too late to make a run (if that team has it in them with Nene, Emeka Okafor and Trevor Ariza providing some type of veteran presence).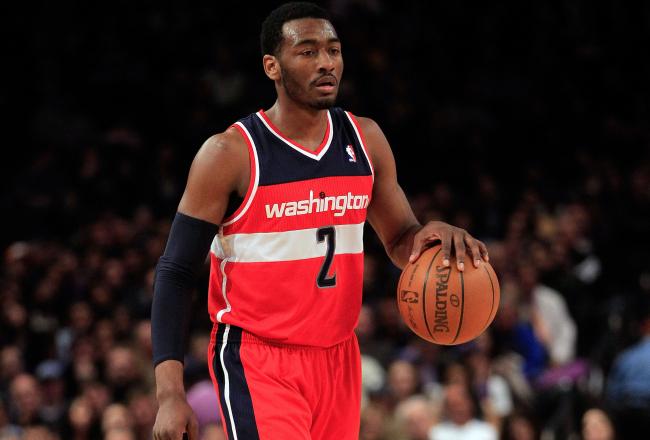 Wall though is the catalyst. He averaged 16.3 points per game and 8.2 assists per game for his two-year career. His shooting still needs to improve as he shot 42.5 percent last year, but even that was an improvement over his rookie year. Missing 20 games is probably not going to help develop that much.
Wall is also clearly Washington's best player.
Okafor, Nene and Ariza's best days are behind them, and they are dealing with their own injury issues.
Ariza is currently out with a strained left calf. Nene is playing limited minutes — about 20 per game — as he recovers from plantar fascitis in his left foot. Okafor has ahd a series of injuries throughout his career to worry about.
Wall is undoubtedly the one player on the roster who can really create for others and get the Wizards out on the break. Jordan Crawford is a nice player who can score, but is not the same type of playmaker at point guard that Wall is. Shaun Livingston certainly is not a player at that level anymore.
Entering Wednesday's game against Orlando, Washington was 25th in the league in assists with 20.0 per game and 26th in assist rate. For a team that does not have many great scorers or shooters, every little bit helps and the Wizards have to have that little boost to bring the team's record back under control and give themselves a chance to get out of the cellar.
Wall's presence would certainly free up the offense and make the Wizards a better team.