For those who like watching records fall or just enjoy following stats, their eyes are surely following the box scores of Rajon Rondo as he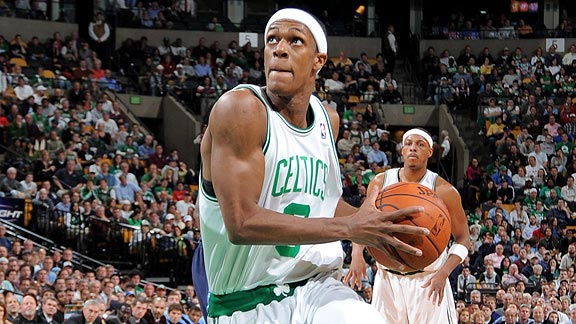 approaches the all-time record for consecutive games with 10 or more assists.
Rondo logged 15 assists against the San Antonio Spurs on Wednesday, giving him 35 games in a row with double-digit dimes, just two behind John Stockton for second and 11 behind Magic Johnson for the record. The streak is impressive, but the Celtics lost to the Spurs 112-100. Surely Rondo is aware of his individual accomplishments, but it's clear the team is
more important
.
"We lost so it's kind of irrelevant, really," Rondo said. "It's all about winning and we lost, so individual numbers don't matter."
The Celtics are sitting at 6-6 on the year, definitely below where they'd like to be, so the number one priority for Rondo and his teammates has to be to get the whole team back on track, not just focus on the consolation prize of a personal record.
Paul Pierce feels the same way.
"It's great," said Pierce. "That's all great right now [but] I'm interested in the team and winning games. I've been a part of individual statistics, which are great. When you're not winning, it's tough to really acknowledge that."
Obviously, if Rondo is dropping double figure assists per game, it should help the Celtics win. He's one of the best point guards in the NBA, also averaging 13.4 points per game on 51% shooting, so the problem must lie somewhere else.
Rondo's pursuit of the record is going to take center stage over the Celtics' performance for the next few weeks, whether they like it or not. It's too early in the season to be thinking about playoff seed and it's a pretty impressive record to be chasing. If they want to eliminate it as a distraction, I guess Rondo is just going to have to stop passing for a game, but I doubt that will happen.