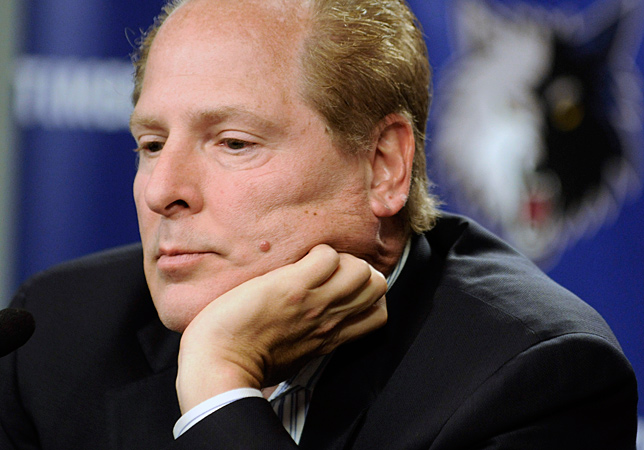 In four seasons, David Kahn was the butt of jokes around the league. There were questionable acquisitions, puzzling draft picks and really seemingly no direction. It was a time of some deep, deep embarrassment for the Timberwolves organization if not within then certainly to the outside.
His Timberwolves never made the Playoffs. Never got close, in fact. His team's overall win percentage with Kahn as the general manager was a paltry .285, amassing 89 wins in four years.
It should be no surprise that last week, the Timberwolves announced they would not pick up the option for the final year of his contract. The team is likely to name former coach Flip Saunders the team's new general manager.
Good was done though under Kahn despite some of the comic hilarity.
Under Kahn's watch, the Wolves did improve. Kevin Love became an All Star player and perhaps the best power forward in the league — when healthy. Nikola Pekovic developed into a rugged defensive center. And the Wolves acquired a bevy of solid veterans to turn in their best season this year since 2007. The Wolves have not had a .500 season since 2005.
Any success the Timberwolves had under Kahn's tenure was nothing more than a moral one unfortunately.
His tenure got off to a rough start when he acquired the No. 5 pick and used it smartly on Ricky Rubio only to see him spend two years in Spain before finally arriving in the NBA. He spent his No. 6 pick not on Stephen Curry but on Jonny Flynn. He failed to live up to the expectations however. That unfortunately was an understatement.
Then there was the Michael Beasley acquisition and the Darko Milicic acquisition and taking a third point guard in the 2009 Draft in Ty Lawson only to trade him to Denver on draft night. And then there was trading Chandler Parsons to the Rockets for cash.
Kahn was always an acquisition behind. He hired Kurt Rambis in 2009. Rambis was a disciple of the triangle, Kahn wanted a roster that would get up and down and run. Those two did not jive. Hiring Rick Adelman was a great move, but came two years after the Rambis misstep.
There were lots of missteps from Kahn, it might be a surprise that he lasted so long in his job with the Timberwolves with how bad things seemed to go.
Yet, after a summer that saw him bring in Andrei Kirilenko and saw things seemingly come together for Minnesota, it seemed his vision for the Wolves was finally coming true and that he was building something successful in Minneapolis. Injuries seemed to be the only thing derailing Minnesota this year with Love and Chase Budinger missing ample amounts of time this season, Brandon Roy failing to make his comeback and Ricky Rubio playing his first season since tearing his ACL.
Saunders takes over a team with some future.
However, maybe it could have gone so much better. Were the last four years a waste for the organization? Possibly.
Kahn did not accomplish what he needed to accomplish with the Wolves. A sad failure for a team still seeking to matter in the NBA.