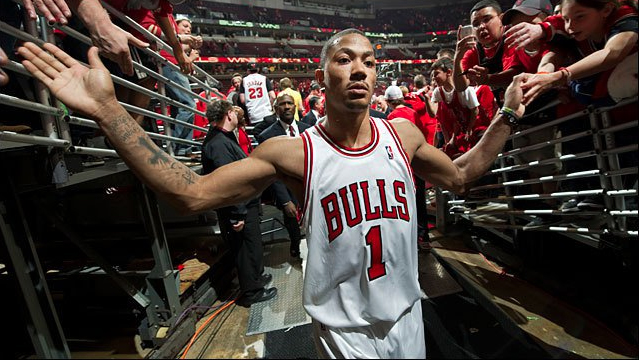 There was a time last season when the league was on Derrick Rose watch, waiting to see if the MVP point guard for the Chicago Bulls would really give it a go and play during the 2012-13 season.
It was the end of January and the Bulls owned the fifth-best record in the Eastern Conference as they neared the All-Star break. At that point, Rose had been cleared for more contact after suffering a horrendous ACL injury during the 2012 playoffs
During the ongoing rehab process, the official return of D-Rose was simply the next step that never happend.
Now after missing all of last season, the next step Rose takes will be toward the start of Chicago's training camp on September 28 and at "100%" according to the man himself.
"I think I am 100 percent," Rose said during a promotional tour of the Philippines with adidas.
"I'm doing almost everything. I'm squatting, running, lifting almost every other day, just being back on the court after you have an ACL injury, you're kind of hesitant at first about how you step, what way you should step, learning how to run, accelerate, accelerate while you run and while you're slowing down.
"For me, I'm reacting right now where all I have to think about is if I have to get to a spot, I'm going to get there no matter what. It kind of feels good having that feeling again."
Obviously, there will be a time in camp when Rose will have to adjust to not only the physical side of returning from his ACL, but also the mental approach that comes with coming back from a serious injury that can mess with a player's head.
Consider the way Rose plays – aggressive, active and leaving it all on the floor, even if that means sacrificing his body in the process. There will come a time when his brain says, "drive hard to the rack!", and his body simply will not be able to spring in to action like Rose would like. That's just the reality of the situation.
But having Rose in camp when the Bulls undergo two-a-day practice sessions will be enough to lift Chicago's spirits and make them forget about losing in the conference semifinals to the Miami Heat, 4 games to 1.
Chicago plays their first preseason game on Saturday, Oct. 5 against the Indiana Pacers and all eyes will be on Rose if he is able to go. And if all goes according to plan with the return of D-Rose, this could be the year these Chicago Bulls "make a run".
In a recent post by ESPN.com Chicago, Nick Friedell makes this point exactly, saying the core of Rose, Joakim Noah, Taj Gibson and Jimmy Butler will be in-tact, but Carlos Boozer, Luol Deng and Kirk Hinrich could all be gone next summer.
For now, however, the hope and focus is on Derrick Rose opening camp at 100%.