After two star-studded seasons at the University of Arizona, Williams was picked with the #2 overall selection in the 2011 draft by Minnesota. In two years with the Wolves, he was nowhere near the player he was in college.
At Arizona, Derrick Williams was unstoppable.
He made the (then) All-Pac-10 First Team both seasons he was in school, averaging 17.8 points on 58.6 percent shooting during his 69 college games against relatively tough competition.
After a down 2009-10 season in which the Wildcats were barely over .500 and missed the NCAA tournament, Williams led them to a 30-win year and Elite Eight appearance the next year. Clearly, when he declared for the 2011 NBA Draft, all the evidence that Williams deserved to be a high lottery pick–and eventual NBA star–was present.
However, it simply did not work out that way.
So it appears that Minnesota sending Williams to the rebuilding Sacramento Kings in exchange for Luc Richard Mbah a Moute is the classic "change of scenery" swap. A fellow Pac-10 alum, Mbah a Moute has been decent for Sacramento this season, but probably would be more beneficial in a contender like the Timberwolves, where he would play less but have a crucial defensive impact when in the game.
Williams, saddled with the expectations of the high pick he was taken with, never really got his feet under him in Minnesota. Sure, scoring was not a real problem for him (10.1 points per game average in his 155 games with the Wolves) but efficiency was major one. The college standout never shot better than 43 percent from the field in any season (42 percent overall) and hung around the low 30s in term of three-point percentage, a number which is not good at all for a swingman like himself.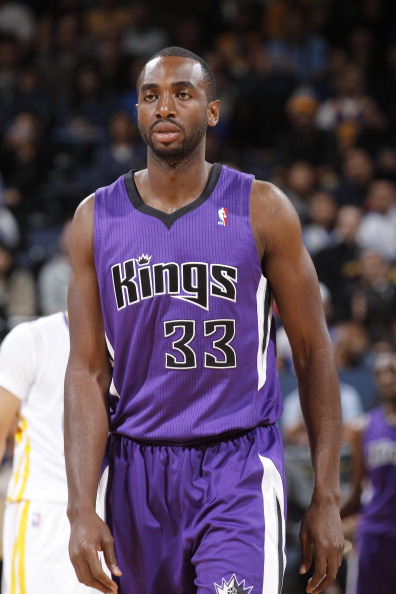 Also, on a talent-laden team like the Wolves, Williams' skill-set got diluted under those of other similar players such as Chase Budinger, Wesley Johnson (now with the Lakers), Wayne Ellington (now with the Mavericks) and others.
Minnesota has had a bunch of guys, for the last few years, who have served basically the same purpose on the floor, which has hamstrung Derrick Williams' ability to make a name for himself in the NBA.
The Timberwolves have serious playoff aspirations now with a healthy Kevin Love and Ricky Rubio and should like the defense and tenacity Mbah a Moute provides. In other words, Minnesota knows exactly what it will get from Mbah a Moute and is no longer banking on Williams' potential.
Meanwhile, for Williams, heading to a likely non-playoff team would allow him to get the minutes he needs to develop his game. By no means is the talent he displayed in college and in small pockets of his NBA career gone. It just has to been unleashed by more playing time and maturity.
If said potential can be harnessed by Mike Malone's coaching staff with the Kings, then Sacramento GM Pete D'Alessandro has found himself an incredible steal.