We love our jerseys.
The Heat really love their jerseys. Not only do they have the "White Hot" all white jersey, and the all black jersey, and the regular black jersey and the regular red jersey and the regular white jersey and then, sometimes, the old Miami Floridians jersey, they will now have a special jersey to celebrate their third NBA championship on opening night.
And it's gold:
Heat wearing these gold jerseys on night they get their rings (Oct 29) pic.twitter.com/GfL4BijDQL

— darren rovell (@darrenrovell) October 23, 2013
Yes, the Heat will add some gold to their jerseys for Opening Night as they receiver their championship rings for the second straight year.
The NBA is already reaping the benefits of this already, selling the warmup jacket for $160 on the NBA.com Store.
The Heat are not the only ones debuting a new jersey. The Spurs also are joining in the fun.
San Antonio unveiled a camoflauge-style jersey Thursday. It is a take off of their grey alternates, except in camo (h/t JR Francis of SportsLogos.net):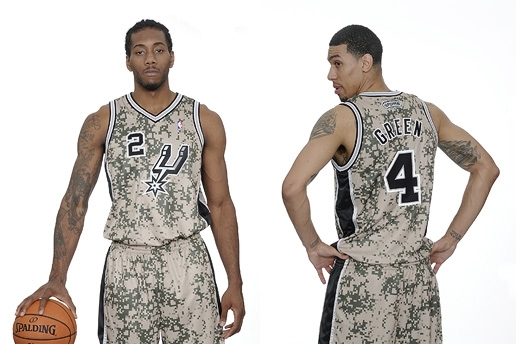 You can make your QR Reader jokes now, Basketball-Reference already did.
The Spurs are not the first team to wear camouflage jerseys. The Raptors wear camo for Veterans' Day in Canada and for military appreciation nights. These Spurs jerseys decided do not look as good.
Besides, what is wrong with the current set the Spurs have? It is simple, classic and timeless. There is nothing wrong with the Spurs usual duds (although I personally would like to see the return of the fiesta warmups).
Some of these teams need to get back to their roots with jerseys and stop trying to be Oregon.