The Houston Rockets will allow their self-imposed December 19 trade deadline to pass it seems. Omer Asik will remain on the Rockets roster, although to what extent and what role is a complete and utter mystery.
Adrian Wojnarowski of Yahoo! Sports reports the Rockets have not found a deal they like and have decided to hold onto Asik possibly until the trade deadline in February now.
Houston has ended talks on an Omer Asik trade and plan to keep him for now, league source tells Yahoo Sports.

— Adrian Wojnarowski (@WojYahooNBA) December 19, 2013
Houston has found too many teams leery of Asik's contract next season, and hasn't found a deal it wants.

— Adrian Wojnarowski (@WojYahooNBA) December 19, 2013
Houston needs to buy more time to find a deal. Rockets weren't dealing from a place of leverage now, and rest of league knew it.

— Adrian Wojnarowski (@WojYahooNBA) December 19, 2013
The rumor that circulated around the league yesterday was that the Rockets were close to sending Asik to Boston in a three-team trade that would also include Philadelphia. The Rockets would have received Courtney Lee, Brandon Bass and picks in exchange for Asik with other pieces involved. The picks may have proven to be the sticking point in those negotiations.
Asik may largely be seen as the prize of this coming trade market. He is a solid rebounder and defender and a good option in pick and rolls despite his limited individual offensive ability. The only catch is his contract.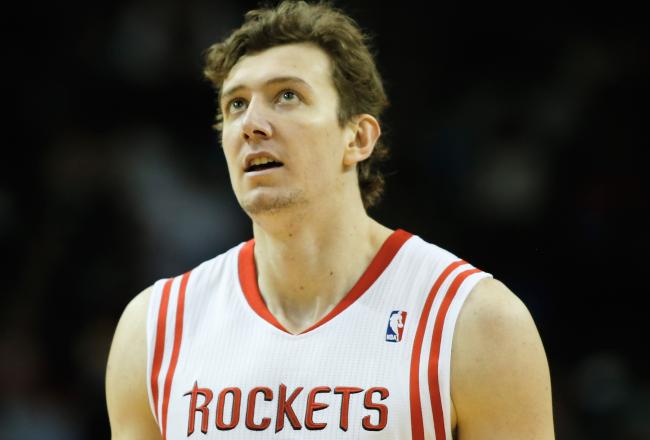 Asik signed a three-year, $25 million contract two years ago with the Rockets as a restricted free agent. To ensure the Bulls did not match, the Rockets back-loaded his contract meaning Asik is owed $14.9 million next season although his cap hit will remain at around $8 million.
As Wojnarowski reported, a lot of teams were leery of taking on that raw payment despite the lessened cap hit.
Further, now it is uncertian just what kind of shape Asik will be in. Asik has played in only 17 games this year after voicing his frustration over the team's signing of Dwight Howard and his less-than-featured role on the team. The Rockets tried starting him with Howard for eight games, but proved that did not work. Asik is averaging 4.4 points and 6.8 rebounds per game in 18.3 minutes per game.
Someone will likely take a bite at him closer to the deadline when playoff races are a little more defined. A team thinking it is one piece away from a title might be willing to take that hit to their pocketbook to bring in a player of his caliber.
Otherwise, the Rockets might be stuck with him.
The good news for Houston is there is plenty of time to make a deal still.