Steve Clifford returns to practice

Hawks vs. Bobcats, 7 p.m.
The Bobcats played one game with heavy hearts after coach Steve Clifford went to the hospital late Thursday night with a heart problem. Nobody was sure if Clifford will be able to return to the sideline and make it through the whole season.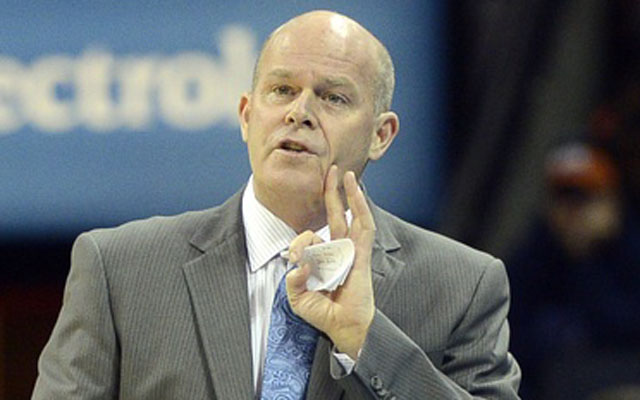 It was understandable that the Bobcats' modest two-game win streak ended against the Knicks with Patrick Ewing in the lead chair for the first time in his coaching career in the NBA. How Charlotte would be able to move on remained a serious question.
They received some good news heading into their home game against the Hawks on Monday.
Both star player Al Jefferson and head coach Steve Clifford should be back for the game.
Clifford returned to practice Sunday, Rick Bonnell of the Charlotte Observer reported, after having two stints placed in his heart to repair blockages. His focus seems to be away from his health and back on the game. He remains hopeful that Jefferson will play his first game since the season opener against the Rockets.
The rest of the NBA world will be happy to know Clifford is healthy and ready to return.
Celtics competing in upside-down Atlantic

Magic vs. Celtics, 7:30 p.m.
No one could have ever expected the Atlantic Division to look like this. Even if it is still considered early in the season. But here we are: The Philadelphia 76ers lead the Atlantic Division at 4-3 with the Celtics and Raptors right behind at 3-4. And, look here, the Nets and Knicks are pulling up the rear at 2-3 and 2-4. Weird.
Suns keep up home domination

Suns 101, Pelicans 94
The Suns were projected at one point to be the worst team in the Western Conference for a second straight year. Four games into their home schedule, and it is becoming clear that the Suns will not be a pushover. Not even close. U.S. Airways center is a tough place to play. Eric Bledsoe had 24 points and six assists to lead the Suns to a 4-0 home record and 5-2 record overall in a surprising win over the Pelicans.
Spurs rout Knicks in Smith's return

Spurs 120, Knicks 89
These noon starts in New York can always be a bit of a trick predicament for both teams. Frankly, NBA players are not used to playing that early in the day and it messes up their clock. When you operate on a clear clock like San Antonio, you do not worry about things like that. The Spurs shot 53.9 percent from the floor and got 24 points from Danny Green in this easy win. New York welcomed back J.R. Smith who scored five points on 1-of-9 shooting. Blame the noon start time, I guess.
Lowry injury cause for alarm?

Raptors vs. Rockets, 8 p.m.
The Raptors entered the season with Playoff aspirations. Unfortunately for teams expected to hover around .500 one injury — nagging or otherwise — can often derail those plans. Kyle Lowry has a nagging injury at the moment, dealing with an ankle sprain and a sprained tendon in his finger. The ankle sprain caused Lowry to miss the second half of Saturday's game. It also caused a bit of panic and unnecessary fretting from the Toronto media.
Danny Granger refutes claim of knee soreness

Grizzlies vs. Pacers, 7 p.m.
The New York Post reported earlier this week that the Pacers' Danny Granger suffered some knee soreness and his return to the court would be delayed. Danny Granger flatly refuted that to the Indianapolis Star. He said the report is completely false. Coach Frank Vogel had previously updated Granger's status by saying Granger was expected to return to practice within the week. His return to the court in full is another matter. Indiana is doing fine sitting at 7-0 and the only undefeated team in the league.
Rubio helps Wolves snap skid in L.A.

Timberwolves 113, Lakers 90
Ricky Rubio came pretty close to a quadruple double as the Timberwolves won extremely easily over the Lakers. More importantly for him, he and Minnesota snapped a 22-game losing streak at Los Angeles against the Lakers. Minnesota is taking some type of leap forward. Ricky Rubio recorded a triple double with 12 points, 14 assists and 10 rebounds to go with five steals. Kevin Martin scored 27 points to lead the Wolves in scoring.
Durant drops Wizards

Thunder 106, Wizards 105, OT
Another 33 points for Kevin Durant seems pretty mundane at this point. The sweet-shooting small forward hit the game-tying three-pointer and the game-clinching free throws for Oklahoma City as the team continues to come together. Learning those chemistry lessons while still winning remains the most important thing for the Thunder. They did that in getting the overtime victory over the upstart Wizards. Bradley Beal had 32 points in defeat.
Boozer compares Thibs to Coach K

Cavaliers vs. Bulls, 8 p.m.
Carlos Boozer has been blessed to play for some pretty good coaches in his career. From Mike Krzyzewski to Jerry Sloan to Mike Fratello to Paul Silas to Tom Thibodeau. Boozer's long career from second round pick to All Star has been pretty good. Thibodeau has brought him closes to winning a championship and Boozer admits that his current coach is similar to his college coach from Duke, Mike Krzyzewski.
JaVale McGee out indefinitely

Nuggets vs. Jazz, 9 p.m./NBATV
The Nuggets received some crushing news during the weekend. Starting center JaVale McGee is out indefinitely with a stress fracture to his left tibia. McGee was getting another opportunity to start with the Nuggets after receivign a big contract from them two summers ago. Denver made moves to free up the space for him. He took it but now fate has intervened to take it from him. Now Denver is going to scramble a bit to get back on track after a very slow start to the season.