Warriors bench helps quell Pels

Warriors 102, Pelicans 101
The Warriors have had their issues in recent games. The team is still finding its way without Andre Iguodala and being without Andrew Bogut for Tuesday's game was not going to be a big help either.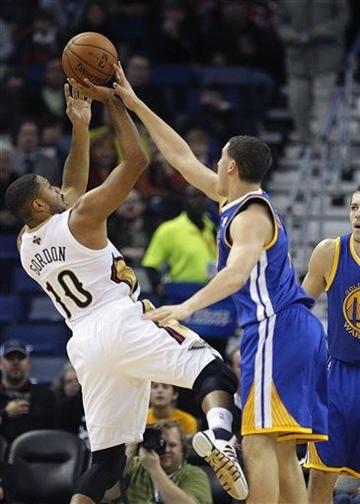 Thanksgiving on the road is going to be tough.
The Pelicans made it all the tougher with Anthony Davis running toward the rim and being able to finish anything that was thrown toward the rim and the guard trio able to knock down shots and provide it to Davis. This was going to be a rough ride for the Warriors. Especially if the Warriors were going to struggle with their starters — a -2 was the best +/- among the starters.
Golden State though found a way.
Klay Thompson scored 22 points to match Ryan Anderson's 22 points off the bench for the Pelicans. Eric Gordon missed a 3-pointer with time winding down to enable the Warriors to escape with a win. It really had to be a team effort for the Warriors to eke out this win. Jrue Holiday had 17 points and seven assists and Eric Gordon added 16 points and seven assists himself.
New Orleans had every chance to win this game. The Warriors got the job done on the road. They get some re-enforcements back the next time out.
Wizards, Wall outlast Lakers

Wizards 116, Lakers 111
The Lakers celebrated Kobe Bryant's extension, but the reality is the Lakers are still a .500 team with a lot of things to improve upon. Defense was not thought to be one of those. John Wall had 31 points and nine assists and Nene scored a career-high 30 points while shooting 52.9 percent from the floor as Washington scored the big win over Los Angeles. Jordan Farmar scored 22 points off the bench to lead the Lakers.
Woodson: I haven't lost locker room

Knicks vs. Clippers, 10:30 p.m./NBATV
The Knicks are in the midst of a nasty six-game losing streak and a horrid 3-10 record. Things could not seem more bleak for the Knicks. A trip out West probably will not help matters either. Mike Woodson appears to be skating on some thin ice if things do not turn around soon. Woodson though thinks he is still the guy to do it. He told Ohm Youngmisuk of ESPN New York that he believes he still has the locker room and has not lost his team. If that is the case, New York has the talent to turn things around.
Grizzlies will miss Marc Gasol

Grizzlies vs. Celtics, 7:30 p.m.
The Grizzlies have some serious questions to ask after Marc Gasol suffered a grade 2 MCL sprain. He is going to be out for a while, potentially to 2014. That is a long way away and leaves a lot of opportunities for the Grizzlies to fall off in the standings. Memphis is not exactly known for its offense. Replacing Gasol's 16.0 points per game will not be easy for this Memphis team.
Nets survive Raptors

Nets 102, Raptors 100
The Nets took a 15-point lead at one point in the fourth quarter. The struggling team from Brooklyn looked like it would cruise to a victory. Not the case. The Raptors stormed back and only a poorly executed play that got Amir Johnson a 3-point shot for the win prevented the Nets from the complete collapse. Andray Blatche led the Nets with 24 points. DeMar DeRozan countered with 27 points for the Raptors.
Magic storm past Hawks

Magic 109, Hawks 92
The Magic shot nearly 60 percent in the second half and stormed past the Hawks for their first road win of the season. Arron Afflalo scored 26 points and Jameer Nelson recorded eight assists in the third quarter. Andrew Nicholson came off the bench to score 18 points. The Hawks got 15 points from Al Horford in the loss.
Kings, Wolves finish Williams swap

Nuggets vs. Timberwolves, 8 p.m.
The Timberwolves and Kings completed their much-talked-about swap of Derrick Williams and Luc Richard Mbah a Moute on Tuesday. Mbah a Moute probably will not be ready to play for the Wolves on Wednesday. Both teams appeared to get what they wanted. Minnesota got a hard-nosed defensive player to bring off the bench and bolster the team's playoff hopes. Sacramento gets another young player to develop. Williams still has a ton of potential so it may not be time to completely give up on him. Some new scenery could help.
Tiago Splitter probable

Spurs vs. Thunder, 8 p.m.
The Spurs expect Tiago Splitter to play when they take on the Thunder on Wednesday, Dan McCarney of Spurs Nation writes. Splitter has a mild right ankle sprain hampering him as the Spurs head into the Thanksgiving break. This is a pretty big game though and it should be all hands on deck for this game. Splitter is averaging 9.1 points per game and 7.2 rebounds per game for San Antonio so far this year.
Clifford explains Adrien over Biyombo

Pacers vs. Bobcats, 7 p.m.
Steve Clifford is explainign one of his first major coaching decision as he opted to go with former second-round pick Jeff Adrien over lottery-pick center Bismak Biyombo in Monday's loss to the Celtics. Biyombo has played in only five minutes the past three games while Adrien has played 48. Adrien has been a much more productive player, Clifford explains, and so right now it is clear this is the right decision. Biyombo will probably work his way back into the rotation soon.
Bynum still limited

Heat vs. Cavaliers, 7:30 p.m./ESPN
Andrew Bynum is back to playing consistently with the Cavaliers, but he is far from returning to his full form. Bynum told Jodie Valade of the Cleveland Plain Dealer that he still has struggles with explosive plays and getting off the floor. Bynum, in effect, has been limited to the ground game as he describes it. The fact Bynum still feels discomfort when he jumps or tries to make explosive plays is a bad sign in his eventual long-term comeback. He is just going to have to manage himself until then.
Caron Butler unhappy with Brandon Jennings

Bulls vs. Pistons, 7:30 p.m.
Brandon Jennings played against his former team Monday night and put on a show with a whole bunch of assists and a blowout victory. That was apparently not enough though. He put on a dribbling display as Maurice Cheeks left him in the game late and continued putting up points. That did not sit well with veteran Bucks forward Caron Butler. He did not take kindly and reacted as such late in Monday's game.