Nets to hire Jason Kidd

—–
The Nets spent a long day interviewing Pacers assistant Brian Shaw. They listend to what Shaw had to offer and the ideas he had for the future of the Nets. They listened.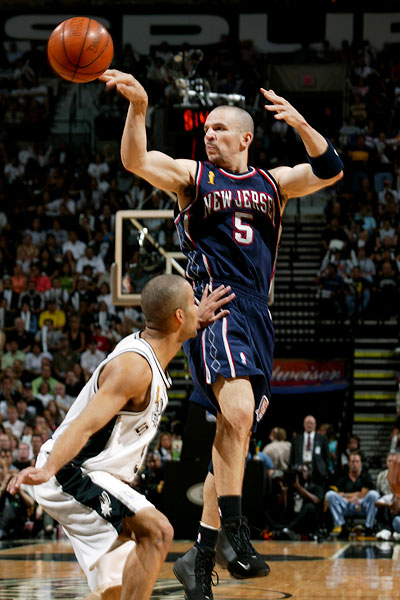 Shaw was once again a bridesmaid and not the bride as another interview fell short for Shaw and he was passed over in his quest to become a head coach.
The Nets have gone with recently retired Jason Kidd as their new head coach. The Nets called a news conference for Thursday afternoon to officially introduce Kidd back to the Nets franchise as its new head coach. A big splash page on the Nets' Web site welcomes Kidd "back where he belongs."
This is a tremendous opportunity to be named head coach of the Brooklyn Nets, and it's a role I have been studying for over the course of my playing days," said Kidd. "Championship teams are built on being prepared, playing unselfishly and being held accountable, and that's how I expect to coach this basketball team. I am truly excited about this next phase of my basketball career."
Kidd had his best years in New Jersey with the Nets, finishing second in MVP voting in 2002 and leading the Nets to back-to-back Finals in 2002 and 2003. He was for a long time the best point guard in the NBA.
Kidd is expected to assemble a more experienced staff that should include his former coach in New Jersey and former Pistons head coach Lawrence Frank. Kidd has reportedly been spending much of his time since his interview assembling this staff. Hopefully it can fill in the gaps of his inexperience as a coach.
For Brian Shaw though?
This is another tough loss as the long-time assistant coach, once thought as Phil Jackson's chosen successor, still cannot get a head coaching job. He is supposedly the frontrunner for the Clippers job now.
Shaquille O'Neal calls Dwight Howard 'too nice'

—–
The former Lakers great Shaquille O'Neal is back to calling Dwight Howard names. The always critical (constructively of course) O'Neal was on The Max and Marcellus Show in Los Angeles and said Dwight Howard is "too nice" when he gets between the lines. O'Neal admitted he was as giggly and joking as anyone off the court, but when he got on the court, he stuck to business. That is something Howard has struggled with, O'Neal said. Hard to argue.
LeBron James puts pressure on himself

—–
LeBron James put all the pressure on himself to make up for his disappointing Game Three effort. James did not look anything like himself. Now the determination has to ramp up down 2-1 in the series entering Game Four with Game Five coming up in San Antonio after that. James said "something has to give" and he has to perhaps force some more offense for himself and impose his will on the game. That is the kind of player he has to be for Miami to win.
Doc Rivers' future uncertain?

—–
With Boston falling in the first round and questions surrounding Kevin Garnett and Paul Pierce's future in Boston, let alone whatever crack is left open on this championship window, the question about Doc Rivers' future begun to come up. The long-held belief is that if Garnett and Pierce are gone, Rivers could also leave with them, leaving three years remaining on his contract. A lot of this talk seems premature. But the Clippers have reportedly already shown interest should Rivers become available.
Grizzlies to interview Ed Pinckney

—–
The Grizzlies have received permission to interview Bulls assistant coach Ed Pinckney, Ken Berger of CBS Sports reports. Pinckney had a decent career in the NBA and has served as an assistant at Villanova and with the Timberwolves before joining the Bulls' staff with Tom Thibodeau. Memphis is reportedly impressed with Pinckney's acumen and what he contributed with the Bulls. This is Pinckney's first real foray into the head coaching process.
Kyrie Irving, Damian Lillard join U.S. training camp

—–
There are no major international competitions this summer, but Team USA will be holding a mini training camp for several young players who will be added into the mix for the 2014 FIBA World Cup in Spain. Two big names added were the last two rookies of the year. Jeff Zillgitt of USA TODAY reports Kyrie Irving and Damian Lillard have been added to the list of young players invited to Las Vegas for the week-long camp. They are joined by guys like Paul George, Ryan Anderson and Kawhi Leonard.