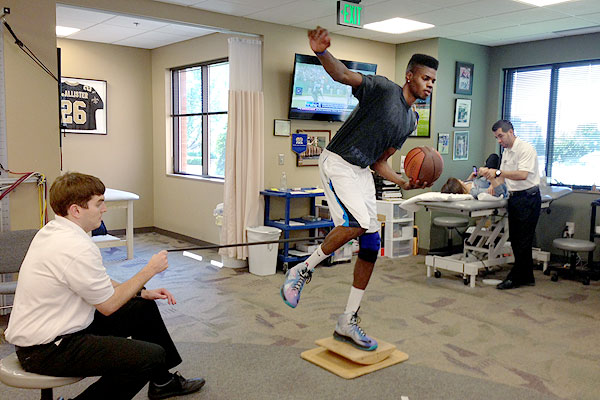 Even two days later after Brett Brown broke the news about Nerlens Noel, you have to feel for the kid.
On Monday, the Philadelphia 76ers head coach informed the press that his rookie big man is still recovering from a torn ACL and is not expected to play this season, which is coming as heartbreaking news more so for Noel than the Sixers probably.
"I doubt, everybody doubts (Noel) is going to play this year," Brown told reporters Monday prior to the Sixers facing the Cleveland Cavaliers in preseason action.
Noel has been accompanying Philadelphia while rehabbing the ACL in his left knee that the 6-foot-11, 230 pound center sustained last February while in college at Kentucky. It gives a whole new meaning to the Sixers and their rebuilding process – Noel is rehabbing and rebuilding his knee, while Brown and Philadelphia are being a target team for "tanking" this season.
The Sixers' payroll is the lowest in the league and they are still trying to figure out who will comprise their 15-man roster. But we are getting ahead of ourselves. A delayed rehab stint for Noel may be disappointing, but it really does not come as a shock as Noel's draft stock was in question back when the New Orleans Pelicans took him sixth overall before trading the 19-year old to the Sixers for Jrue Holiday.
"I prepared myself. I'm staying focused with everything," Noel said during the Sixers media day. "Although I won't be playing (in the preseason), I'm a student of the game and I'm seeing how certain players play and their tendencies. I'm doing the job. Even though I'm not playing, I'm learning."
Noel is saying and doing all of the right things. He is working hard and wants to be out on the floor. But the one thing he can not control is the timing and circumstances of his return. The Sixers know this all too well, particularly knowing their debacle with Andrew Bynum last season. But at least Philadelphia's front office knows the difference between Bynum and Noel.
Noel will still be a cornerstone and mainstay of their franchise. It is just going to take a little longer for him to finally get on the floor. In the end, Philadelphia is taking the right approach with Noel in not rushing his comeback. Even though it has been reported that Noel's rehab is ahead of schedule, the last thing the Sixers want is to blow their future with the likes of Andrew Wiggins and Jabari Parker and others projected to be top picks in the 2014 NBA Draft.