Every morning, we will give you five things from the night before in the NBA to start your day.
1: Rare indeed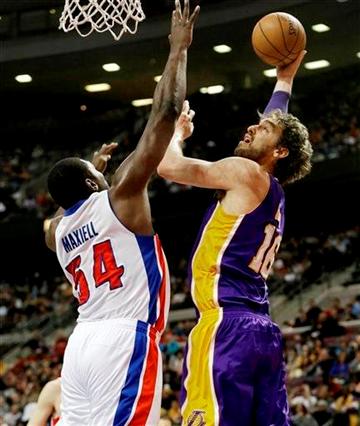 There was a certain amount of shock that filled The Palace of Auburn Hills. Will Bynum had missed a floater to give the Pistons the lead and the ball bounced its way to Steve Nash. With only a one-point lead, Nash could not ice the game at the free throw line but he could certainly make Detroit's task that much harder.
And Nash should have been a sure thing to make both free throws. He is, after all, a career 90.4 percent free throw shooter and had missed only two free throws all season.
No way would he miss one? The first one was no good. No way would he miss two? Yep, the second was no good. Nash missed three free throws on the day and left the door wide open for Detroit to score an upset.
This story does have a happy ending for the Lakers, however. Kyle Singler struggled to get the ball in with 1.2 seconds left and threw a lob for rookie Andre Drummond. Drummond can jump with the best of them but he could not finish the jame to deliver the Pistons a win.
Yes, the Lakers won 98-97 on Super Bowl Sunday. Yes, Pau Gasol was the star with 23 points and 10 rebounds including the go-ahead bucket late in the fourth quarter. Everyone still waiting for perfection from this Los Angeles team will still be waiting. But wins are wins no matter how rare they seem.
2: Clippers show up late
Early afternoon starts for West Coast teams can be tough. No doubt about it. The body clock is still used to the Pacific Time Zone and the three-hour time difference.
So excuse the Clippers for showing up a bit late in Boston (even though they played the Raptors on Monday and had plenty of time to get adjusted to the jet lag, but I need it for the bit). They fell behind the Rajon Rondo-less Celtics by 15 in the first half and seemed dead and buried.
Of course, everyone makes a run and Los Angeles is definitely at the head of everyone and the Clippers would make a run.
After scoring only 10 points in the second quarter, Los Angeles scored 37 in the third quarter and outscored Boston 27-14 in the fourth quarter to make the game tight down the stretch. The Clippers, when engaged, are about as good as any other team. Or maybe it says something about the Celtics' inconsistent offense.
In any event, this turned into Paul Pierce's game. With 27 seconds left in the game, the Clippers opted not to foul and Pierce worked the clock down. He dribbled toward the left wing and sized up his man. Eventually he just stepped back and drained a three, leaving about two seconds left on the clock for the Clippers to make up five points.
Jamal Crawford's three gave the Celtics a 106-104 win and their fourth consecutive win without Rondo.
3: HIGHLIGHTS!!!
Rudy Gay blocks a LeBron James shot
The Butler did it
Dynamite dunk
4: Line of the Night: LeBron James — 30 points, 8 rebounds, 7 assists, 10/16 FGs
Stat lines like these have become commonplace for LeBron James. The ease at which he is able to do evertyhing he does may slowly be going unappreciated because it is so darn regular for him. These once-in-a-lifetime games for other guys happen at least once a week for James. Oh, hey, LeBron went to his first NHL game and said if he knew how to skate he would be able to score goals too. I somehow do not doubt that.
5: You can quote me on that
I'm not happy about this one tonight. It's a letdown.
You don't want to be thinking about ways you could have helped the team win while you're trying to watch the Super Bowl. We're happy we took care of it.