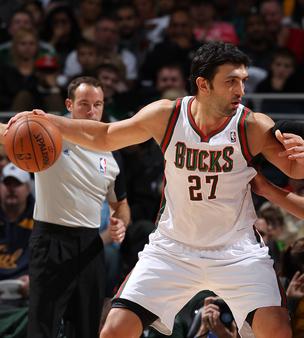 What happens to an NBA court when it gets retired?
If Zaza Pachulia has his way, it will be in his possession and somewhere of his choosing. The Bucks center is putting togetehr a bid to purchase the Bucks old floor from the BMO Harris Bradley Center.
Pachulia told Zach Lowe of Grantland that he intends to buy the Bucks old court and donate it to a gym in his native Georgia (the Republic, not the state). It is great gesture from the current Bucks center.
"This is my dream," Pachulia says. "I want to make this happen. It would be really exciting for me, and for the kids in Georgia, to have a chance to play on an NBA floor. So many superstars have played on that court, from the Bucks and other teams."
The one problem is that the new Bucks floor is not yet installed. The finish on the new floor, inspired by the design in Milwaukee's old arena, was deemed to slipery and so the team is playing on its old floor while it gets refinished. Pachulia will have to wait to make his purchase.
What floor would you want to own? Just so you know, Lowe reports a new floor costs about $115,000. So that might be your starting price point.