Lowry, on a surprising Raptors team, has been putting up career numbers (16.8 points and 7.6 assists per) but apparently hasn't done enough to warrant an All-Star vote from the NBA's coaches
Every year, the fans of the NBA pick the All-Star starters while the coaches pick the All-Star reserves. Every year, there are deserving players who rightly get honored with one of the higher individual awards given during the season. Every year, there are other, equally deserving, players who don't get the same courtesy of being named either a Western or Eastern Conference All-Star.
The 2013-14 season has been no different. The All-Star reserves for this February's game in New Orleans were announced on TNT's Inside the NBA Thursday, just before the Cavaliers got beaten by the Knicks at Madison Square Garden.
As per usual, there were a bunch of players that certainly had earned the right to participate in the All-Star Game, others who probably didn't, and others who just didn't make the cut, for whatever reason.
The East's reserves: John Wall (Wizards), Joe Johnson (Nets), DeMar DeRozan (Raptors), Roy Hibbert (Pacers), Joakim Noah (Bulls), Chris Bosh (Heat), Paul Millsap (Hawks)
The West's reserves: Damian Lillard (Blazers), James Harden (Rockets), Tony Parker (Spurs), Chris Paul (Clippers), Dwight Howard (Rockets), LaMarcus Aldridge (Blazers), Dirk Nowitzki (Mavericks)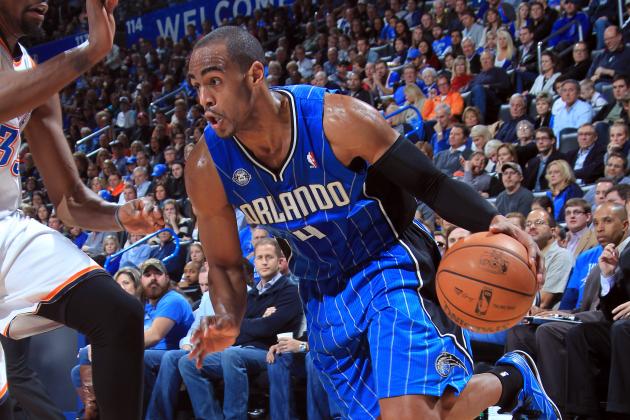 For the East, the most glaring snubs have to be Kyle Lowry and Arron Afflalo, both of whom are averagaing career-highs across the board and could easily have made the team over Johnson, who will play in his seventh All-Star Game. Lance Stephenson, having a great year of his own for the mighty Pacers, is another player for whom an argument could be made.
Lowry has played in all 45 games for Toronto, which is currently leading the Atlantic Division and third in the East. Trade and free agency rumors, a blockbuster trade, and some rough patches have all plagued his season with the Raptors, but he has not let those distractions stop him from posting career-bests in points, assists, field goal percentage, and 3-point percentage.
Meanwhile, Afflalo, with a floundering Magic team mired in the East's cellar, is scoring a career-high 20 points per game with a stellar .470/.420/.832 slashline that is challenging the league leaders in shooting guards.
Afflalo's point averages have increased every single year since he entered the NBA in the 2007-08 season, so he has been constantly improving, noted by his 3.5 point-per-game increase this season over last. In just a few years, he has developed into a top scoring threat who probably will be the face of the Orlando Magic franchise for a long time.
In the West, young big men Anthony Davis and DeMarcus Cousins, who were probably hurt by the lack of success their teams have had so far, both could have cases made for them over Dirk Nowitzki — making his 12th All-Star appearance.
Davis, as one of the only Pelicans who has been able to stay healthy this season, is putting up unreal numbers in his sophomore campaign, averaging a 20-10 double-double with 3.3 blocks per game and a 51.9 field goal percentage.
Cousins, already in his 4th NBA season somehow, is one-upping Davis, as he's averaging 22-11 for a talented yet young and disappointing Sacramento Kings team. Dirk is having another one of his high-scoring, consistent-production years, but it's probably time for a player such as Davis or Cousins to get a shot on the big stage.