The NBA Draft is quickly approaching with the clock ticking down ever closer to the big gathering in Brooklyn for the Cavaliers and the number one pick. That decision for the Cavaliers got a whole heck of a lot tougher Thursday when Joel Embiid's agent, Arn Tellem, announced Embiid has a stress fracture in his foot.
The injury has sent the NBA Draft preparations into a tailspin as Embiid has gone from consensus top-3 pick to maybe not even in the top-10. Some believe this injury is very serious as he fractured a bone at the top of his foot that has dogged several former players as well — most notably Zydrunas Ilgauskas and Brook Lopez have suffered stress fractures in the same part.
Back and foot injuries for 7-footers (raw 7-footers at that) are never a good thing. That is going to cause Joel Embiid to fall and shake up everyone's mock drafts and projections of the draft — that goes from media and observers like me to coaches and general managers figuring out how things will play out and how to adjust their big boards.
For now, let us try to figure out how the Draft will shake out next week:
1. Cleveland — Jabari Parker (Duke): I have been debating between Andrew Wiggins and Jabari Parker at this spot all along. Joel Embiid is the easy pick because he was big, but just is not developed enough. The Cavaliers need to win now and Parker is the most ready to contribute of the top guys. Pairing him in the front court with the versatile Tristan Thompson will give the Cavaliers an athletic front line.
2. Milwaukee — Andrew Wiggins (Kansas): Wiggins is probably the player with the most talent in this draft and the most potential to become something really special. Even if Milwaukee has a need at point guard and really likes Dante Exum, the team cannot pass on a talent like Wiggins. He still has to put his game completely together and learn to take over a team, but he has the talent to do it and will only get better.
3. Philadelphia — Noah Vonleh (Indiana): I am personally higher on Kentucky's Julius Randle. I think he is a more complete player and Vonleh needs a lot of work. He is raw with a ton of physical attributes. If there is a team that can afford to be a little patient, it is Philadelphia. And that front line with Vonleh and Nerlens Noel seems like a twin towers lineup that would give players athletic nightmares in the future.
4. Orlando — Dante Exum (Australia Institute of Sport): Full disclosure, I am a Magic blogger and I am still a bit in denial over the prospect of the Magic losing out on Dante Exum because of the Joel Embiid injury. The Sixers or Bucks could very easily take Exum and leave Orlando drafting the raw Vonleh or Randle. Exum is a unique talent, possessing a lot of speed and size for a point guard. The Penny Hardaway comparisons are a little much, but it is hard to argue when you watch the way he plays.
5. Utah — Julius Randle (Kentucky): Of all the post players, Randle is probably the most complete and ready to play. He has decent size and a great offensive touch. He just needs to increase his strength and defense in the paint. Randle's big issue is a perceived low ceiling. The comparison to Zach Randolph is a good one, but that probably does not mean he can be your franchise player. Still a very good pick.
6. Boston — Joel Embiid (Kansas): Embiid cannot fall too far. It is "just" a stress fracture and he still has that bundle of talent and size scouts like. Boston seems like a team that could take that risk. They are still deciding whether to rebuild or retool and are collecting assets to make a run at Kevin Love. If that pursuit holds over into the season and Embiid shows he can play, that is another asset . . . and another reason for Love to stay.
7. L.A. Lakers — Marcus Smart (Oklahoma State): Smart made the surprising decision to stay at Oklahoma State despite everyone believing the Magic would have taken him at No. 2. His stock likely slipped because he stayed and because of the increased talent in this year's Draft. The incident at Texas Tech aside, Smart is a bull of a player with good size at point guard. He played off the ball more in his sophomore year and still has to improve his shooting and taking care of the ball.
8. Sacramento — Aaron Gordon (Arizona): Gordon is almost literally a mini Blake Griffin. The guy can fly out of the gym and is a tireless worker. He loves playing basketball and is continuing to improve. Unlike Griffin though, he will not be able to play power forward the same way at the NBA. At 6-foot-8, Gordon is an incredible athlete but has to improve his shooting ability. By a whole heck of a lot. But those dunks on the fast break will be fun to watch.
9. Charlotte — Dario Saric (Cibona Zagreb): Saric is a pretty intriguing prospect. He has gained comparisons to Hedo Turkoglu with his size and ability to handle the ball as a point forward. There are people wondering whether he will actually make the trek over from Croatia and arrive in the NBA. That may well be dependent upon where he gets picked. The Hornets would be a good fit as they need someone who can help get Kemba Walker off the ball some and provide some much needed offense.
10. Philadelphia — Nik Stauskas (Michigan): Stauskas is perhaps the best pure shooter available in this draft. He is pretty athletic too and a solid player. A product of playing for John Bielein and the Michigan Wolverines. This is a guy who has played for a disciplined coach and a guy who can fill a role and fit into a team while playing his own game. That is actually pretty valuable in the league.
11. Denver — Doug McDermott (Creighton): McDermott is like Stauskas in a lot of ways, he just had the ball in his hands a whole lot more and scored a ton more points at Creighton. McDermott has silenced doubters at every level he has played at so far in his career. He can put up points in bunches and has unlimited range. He should be able to play without the ball at the NBA level. The question is his defense.
12. Orlando — Rodney Hood (Duke): Hood is a do-everything forward who has a knack at putting the ball in the basket. That goes from deep as much as it is on drives or slashes to the rim. He is not going to do a whole lot more than score. That is the big concern with him. But for a Magic team that needs everything and versatility, Hood would be a good fit and provide another guy who can create scoring opportunities.
13. Minnesota — James Young (Kentucky): Young was the shooter for that Kentucky team until Andrew Harrison went bonkers in the NCAA Tournament. Young is a guy who will hit an open shot when he gets one. That was something the Wildcats needed desperately. Young is very similar to Hood. There are questions about whether his skills will translate to the NBA level.
14. Phoenix — Adreian Payne (Michigan State): Payne is a Spartan much in the same way Draymond Green was. Always solid around the basket with a continuing to develop ability to hit the outside shot. Payne is an experienced player who knows what he is capable of doing and will bring defensive toughness in addition to some strong offensive ability. He is not an elite talent, but he will be a good piece to add in the late lottery.
15. Atlanta — Gary Harris (Michigan State): Harris is a combo guard who is still growing as a point guard. Needs to improve his playmaking ability to play the position full time. 16. Chicago — Elfrid Payton (Louisiana): Probably the guy who has risen the most in pre-Draft buzz. Payton put up big numbers in the Sun Belt last year.
17. Boston — Tyler Ennis (Syracuse): Ennis might be the best pure point guard, but the question is what else can he give you. Is he anything more than a bench guard? Ennis not considered an elite talent.
18. Phoenix — Kyle Anderson (UCLA): Very athletic small forward who put up gaudy numbers in the Bruins' fast-break offense.
19. Chicago — Zach LaVine (UCLA): LaVine is an interesting talent as a big point guard. Not quite a good enough shooter to play too much shooting guard. Not great enough point guard skills to be a true point.
20. Toronto — T.J. Warren (NC State): Elite college scorer and a guy who knew how to draw fouls and get to the basket. Needed the ball in his hands though as he is not a great 3-point shooter. And I am still bitter about the missed free throws at the end of his NCAA Tournament game against Saint Louis.
21. Oklahoma State — Jusuf Nurkic (Cedevita Zagreb): Nurkic is a big man in the mode of Nikola Pekovic. A bit grounded, but tough and solid on the inside. Nurkic may spend a few more years in Croatia improving his skill before coming over.
22. Memphis — P.J. Hairston (Dallas D-Fenders): Gifted scorer for his size and played well at North Carolina and in the D-League. Off-court issues led him to leave school early and enter the D-League.
23. Utah — Cleanthony Early (Wichita State): A big part of the Shockers' sudden rise. Energy guy who will fly around the basket and provide energy off the bench.
24. Charlotte — Jerami Grant (Syracuse): Interesting prospect who is a bit of a tweener for the power forward position. Will have to develop a jumper to play small forward.
25. Houston — C.J. Wilcox (Washington): Dead-eye marksman who would be the best spot-up shooter in this year's Draft. Problem is he will not do much else but wait for others to create for him.
26. Miami — Clint Capela (Chalon): Athletic big man with limited basketball experience. Still playing on instinct. But that athleticism fits the Heat perfectly.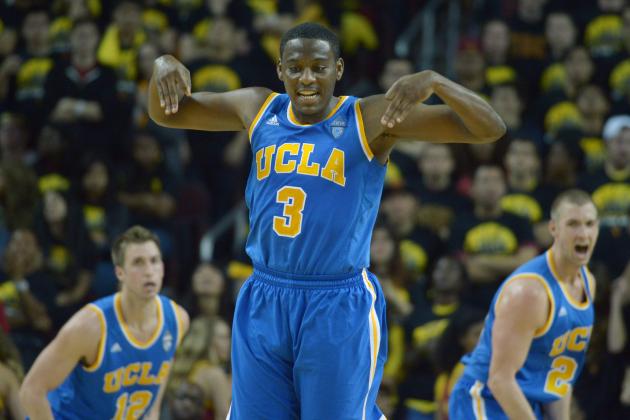 27. Phoenix — Jordan Adams (UCLA): Split time at point guard with LaVine at UCLA in that up-tempo offense. Was great at putting the ball on the floor and scoring, but not the best athlete in the world.
28. L.A. Clippers — Mitch McGary (Michigan): Set the world on fire in the 2013 NCAA Tournament with his mix of size and shooting ability. He is a true stretch-4. But a back injury knocked him out of the 2014 season and off-court issues (a failed marijuana test) brought him to the NBA early. Still a very talented player.
29. Oklahoma City — Shabazz Napier (Connecticut): His run through the NCAA Tournament last year was the stuff of legend. He stepped up every time his team needed a big score. And that is what he is good at — scoring.
30. San Antonio — Glenn Robinson III (Michigan): A very solid college player who always faded to the background with the stars — Trey Burke, Tim Hardaway Jr. and Mitch McGary. But Robinson is a great athlete in his own right who is still putting all his skills together.