Basketball is back from its brief hiatus as games have tipped off from Orlando for the 10-team Southwest Airlines Orlando Pro Summer League. It is a much quieter time and a much more relaxed atmosphere than the hoopla in Las Vegas. That does not mean Summer League is short on storylines. In those 10 teams are some interestingpieces of information about these players that we will learn heading into training camp next season.
A sample of the ones we will follow:
Nerlens Noel's Return
Probably the most anticipated event of the Orlando Summer League will be the return of former Kentucky freshman Nerlens Noel to competitive basketball. The sixth overall pick from last year's Draft missed all of last season recovering from an ACL tear suffered in February 2013.
It has been a long slog and a long wait for him to get back onto the floor.
After drafting another injured big man in Joel Embiid in this year's Draft, the Sixers want to see exactly what they have in their newfound rookie.
In college, Noel was a defensive monster averaging 9.5 rebounds per game and 4.4 blocks per game. This is a guy that literally shifted offenses and made drivers do double takes and give second looks when they came into the paint. It was unreal watching some of college's best players keep their distance from the paint when Noel was lurking.
Will he have that same effect in the NBA? Will he still have that explosive athleticism, leaping ability and timing to block all those shots at this level? We start answering those questions as Summer League begins this week.
Improvement from Sophomores
The Magic are a young team. That has been the case for the last three years. But now they have dumped Arron Afflalo and Jameer Nelson. The leadership responsibilities have clearly been turned over to the young guys. Victor Oladipo will be relied on a whole lot more on both ends of the floor.
Oladipo is one of the sophomore players that will be looked upon to step up and show some of that improvement and consistency throughout the week. He will obviously get a lot more possessions this year — his usage rate was a robust 24.4 percent last year — and he will have to be more efficient with them too.
The same should be said for the Nets' Mason Plumlee. He was used mostly as an energy guy last year off the bench. He will probably have to do that again next year as well. Whatever more he can add offensively will be great. He will have to be strong defensively again. Showing a little more leadership and aggressiveness this week will make Nets fans pretty happy.
The Fringe Players Looking for Another shot
There are a lot of players on the rosters for several teams who had NBA experience last year. And several that are probably on their last legs. These guys are always interesting to watch as there is more of a sense of desperation from these guys to crack a roster and get a training camp invite. Remember, this is step one for these guys. There is still the long process of making a roster through training camp.
Which of these players should you be keeping an eye on at Summer League?
Brooklyn Jorge Gutierrez cracked the rotation last year for the Nets as a surprise undrafted rookie. He is an energetic young guard who can use his speed to get into the lane. He struggles with his own consistency however. And now he is behind Marquis Teague on the Summer League depth chart.
DeAndre Liggins is getting a second chance with the Pistons Summer League team after facing some legal troubles in Oklahoma City last year. Liggins has shown he can play in the NBA before with the Magic and with the Thunder as he bounced between Oklahoma City and the D-League in Tulsa. Liggins is probably getting a last chance here and will have to really shine.
Nolan Smith will suit up for Oklahoma City this year and he was on the cusp of doing something good for the Blazers the last few years. He never quite cracked the roster or rotation consistently. The Thunder could be a good landing spot for him as they are in need of a point guard after Derek Fisher's retirement.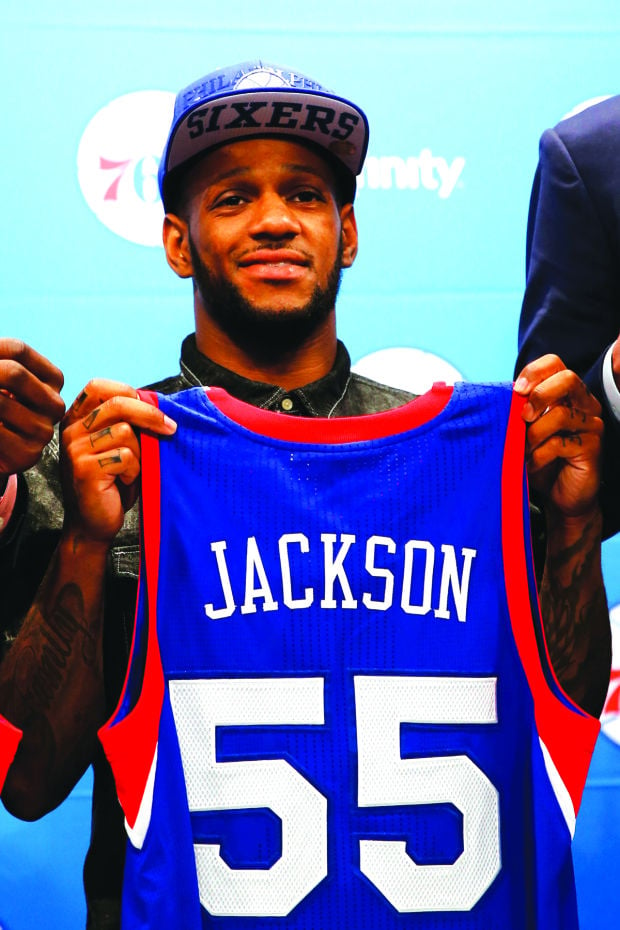 Pierre Jackson's return to the States
In addition to Noel, the Sixers Summer League roster will feature the return of Pierre Jackson.
Jackson played last year in Turkey after the Pelicans opted not to sign him. They retained his rights by stashing him in Europe. An odd move for an American player. Jackson tore up Summer League in Las Vegas and then tore up the Turkish league and Euroleague for Fenerbahce. He obviously wants to be in the NBA where he hopes to be a big-time scorer off the bench.
That is the idea at least.
Jackson is on a new team now and back in the NBA circle. We will see if he can pull off the same Summer League tricks.
Can Oklahoma City repeat?
Last year, the Thunder easily won the Orlando Summer League behind Jeremy Lamb and Reggie Jackson. Teams just could not stop them. Steven Adams began to emerge too. It was a really good Summer League team.
This year, Lamb is back along with Perry Jones and Steven Adams, creating a difficult front line for teams to handle. Add in Josh Huestis, Semaj Christon, Mitch McGary and Nolan Smith and there is a lot of talent. The Thunder might very well be the favorite to win the thing again.
Then again, who cares?