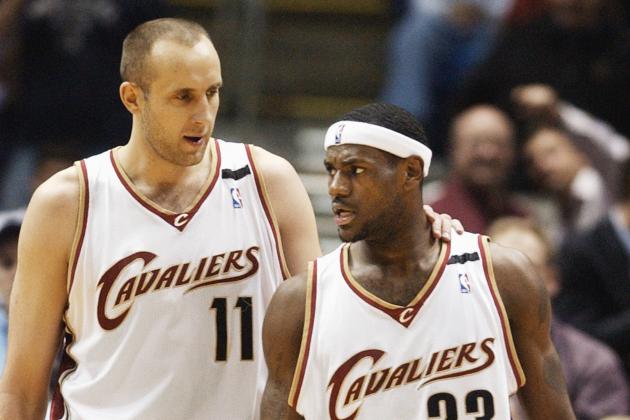 LeBron James plans to attend former teammate Zydrunas Ilgauskas' jersey retirement ceremony in Cleveland on Saturday. The Heat will play the Bulls on Sunday afternoon in Chicago. James told Joseph Goodman of the Miami Herald that it looks like he and several Heat staffers from Cleveland will be able to make the trip to celebrate Ilgauskas' career.
Ilgauskas played 13 seasons in the NBA, 12 with the Cavaliers and six with LeBron James in Cleveland with one more in Miami with James. He was very much a big brother to LeBron.
And really he was a big brother to many in Cleveland. Reading about Ilgauskas and what he meant to the Cleveland community and the organization.
Mary Schmitt Boyer of the Cleveland Plain Dealer wrote a very touching tribute about Ilgauskas and how a 7-footer from Lithuania who averaged only 13.8 points per game in his career with the Cavaliers came to have his jersey retired with the organization:
Though [Ilgauskas' wife, Jennifer] never doubted her husband's popularity — in large part because of his genuine and humble nature and because they can't go anywhere without someone wanting to buy him a drink — she has been bowled over by the response generated by the retirement of his jersey. No sooner had the invitations to this weekend's festivities gone out than the RSVPs started arriving with notes attached.

"I'm a numbers person," said Jennifer Ilgauskas, the owner of Rebound Physical Therapy with four offices in Northeast Ohio. "When you send out your list of invitations, you figure only 60 percent of the people are going to come. I think we're at 94 percent. There were very few who aren't attending. Shockingly, so. Which says a whole lot about him and what it means."
It is going to be a very special night. It might be the one event in which James could appear in Cleveland and receive a bit of an ovation. Ilgauskas is that universally loved. And James certainly wanted to be back in Cleveland to honor a former teammate who meant a lot to him early on in his career.
Hopefully James' return to Cleveland does not overshadow Ilgauskas' night. It shouldn't because Ilgauskas clearly means a lot to the Cleveland community.
This night is all about Big Z.