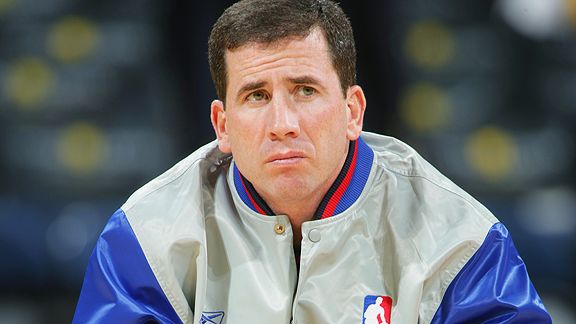 If a respectable, veteran, NBA official, who's never done prison time as a result of being linked to fixing NBA games with reputed gamblers, ever wanted to hang up the whistle and speak candidly about their former employer, Tim Donaghy has a seat warm for them.
A few years after being sentenced to fifteen months in jail for betting on NBA games, Donaghy seems to have morphed into some type of go-to authority for all things critical of NBA officiating.
The disgraced former ref now grades refs these days, and publishes these grades online. He then uses this "data" to support his NBA conspiracy theory of the week with anyone who'll listen to him.
Not a bad scheme actually. Maybe some of what he says is right, maybe it's not, but regardless he sure seems to get a lot of airtime as a result this time of year.
Talking with The Rise Guys on KHTK Radio in Sacramento, prior to Dallas' 86-83 Game Three win over Miami, he discussed a topic called the "Cuban Factor". No, not the kid Elian, the owner Mark of the Dallas Mavericks.
When asked if the Mark Cuban factor has evened the way the officials call the NBA Finals because the NBA doesn't want to hear Cuban complain, Donaghy offered the following:
"No doubt about it. I mean I think Mark Cuban right now is like a volcano about to erupt when it gets to the point where he can't take it anymore. He's going to erupt just like he did the last time they played Miami in the NBA Finals. There are calls that are taking place that have seemed to be going in the favor of the Miami Heat and I think he's at the point now where if he gets down three games to one he's going to blow."
It's worth noting that this owner-centric conspiracy theory would be a relatively new one for the Association as far as I can tell. The thoughts that refs take directives from the top to call games to specifically favor the home team, extend a series, and promote superstars have been around for years. This is the first time I can remember an owner being so apparently feared by David Stern, though, that he's dictating play from the first row.
Donaghy went on to offer his grade and critique of the Finals Crew as well. He graded them as being average, but called them not good:
"I really don't think it's been too good. I think I would probably give it about a C, maybe a C+ at this point. I've done a lot of breakdowns for Deadspin.com and put the plays on there that have been missed. It seems to be quite a few, so it's a situation where you are suppose to have the best referees in the world at this point referring these NBA Finals, but yet there still seems to be a lot of plays missed."
Whether the officials impacted it or not, I suppose we'll never know, but the Mavericks aren't down 3-1. Their all tied up with one more in Dallas before heading back to Miami for Game Six. Which means Mount Cuban won't be erupting, I guess, and blowing the lid off all this funny business Donaghy's talking about.
Photo Credits: Tim Donaghy, Mark Cuban