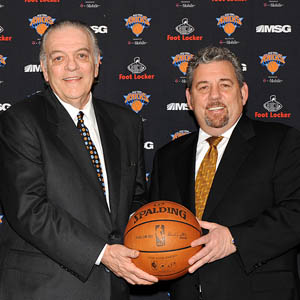 A little more than a month ago, it looked like the New York Knicks were going to do the right thing and keep Team President Donnie Walsh on to finish the job he started.
Turns out, they didn't. MSG Executive Chairman James Dolan said today:
"Donnie Walsh and I have mutually agreed that he will be leaving his position as president… at the end of June…. will remain with the team as a consultant for the 2011-12 season."
I'll echo the sentiments that I made at the end of April. There's no doubt Donnie Walsh wants to finish the job in New York. He's worked hard to undo a million knots tied by Isiah Thomas. But Thomas still has a hold on Dolan. His whispers can be heard all the way from Florida, where Thomas is allegedly coaching Florida International. The whispers were present during the Carmelo Anthony dealings, and there's no doubt they'd be there in future dealings.
Walsh is too good be hounded by the ghost of Isiah "Human Napalm" Thomas. He's done too much work for far too long to let a shyster come along and pull strings behind his back. The only thing winning about Zeke is his smile nowadays, and Walsh knows that. He's not going to stick around and be tainted by the stench caused by Isiah Thomas.
James Dolan won't give Walsh full control. So Walsh is getting out of dodge. He'll take the "consultant" job to make some money… but he wants no part of what's next.
Knicks fans, who had been celebrating a return to relevance, are now nervous again. They fear Zeke's return is inevitable now… and that it will undo what Walsh has done. And if Thomas DOES return, it's almost guaranteed he will.
Getty Images photo