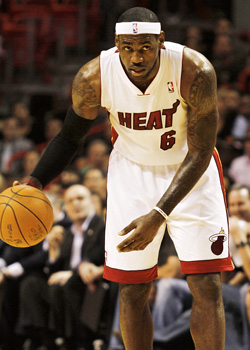 It doesn't take a doctor like Jack Ramsey to see how devasting LeBron James would be operating from the low block. There's nobody on earth who could guard him one-on-one down there, and if you tried to run two or three guys at him he'd find teammates running so open for lay-ups that even Eddie House and Mike Bibby would score. It would be a joke really; and it's that type of untapped potential that's led to all those face palms over the years from NBA on-lookers wondering why he doesn't just stop dribbling the twenty-four second clock away and take guys down to the block and abuse them whenever he feels like it already.
Who knows why LeBron never did it before either, one could only speculate. Maybe he felt it was bad for his look, maybe he didn't want to bang around down there and increase the likelihood of getting hurt, or maybe he just didn't know any post moves. Whatever the case, he seems to be shifting his focus now more than ever to developing some sort of attack down in low-block. He's even apparently sought out the assistance of Hakeem Olajuwon.
This from an AP report yesterday:
"Right now I've just been focusing on being a better player, working on my game every single day," James said at a news conference before the AP interview. "Like I said, the Dallas Mavericks were a great team and they deserved to win that championship. And I'll just use that as motivation coming into this season."
He's also trying to deliver on his vow to be even better whenever the Heat resume play, saying he's been in Houston at times this offseason to learn post play from one of the game's all-time greats, former Rockets star Hakeem Olajuwon.
"I look at what he was able to do throughout his career," James said. "Unbelievable talent. Multiple champion. Just to see how he was able to dominate in the low post, for me as an individual, I just try to look at some of the things I feel I need to get better at and hit home at it. Our team becomes better if I continue to get better and that's what it's about."
What LeBron probably meant to say is that our team gets better if we all get better as individuals, but what he actually said is still true. The Heat do get better if he gets better, and the last frontier for LeBron's game really is with his back to the basket. If he develops that, he's un-guardable. Even more un-guardable than he ever was in the past, times two, assuming there is a mathematical equation out there to support that claim. Learning the post-move repertoire detailed in the Dream's Handbook to Post Play in the NBA is one thing though, and sure he does still need want to incorporate those moves into the actual game, but he's never seemed interested in doing either before. If he really is interested, and does it consistently, nobody but LeBron James will be able to stop LeBron James for the rest of the way out. Assuming anyone else can now.
—
Photo Credit: Eye on Basketball