Every Tuesday, our staff will gather to discuss a hot topic of the week. It's been well over a month since the Carmelo trade to New York. Early on, the common knowledge was that New York got the best of that deal. With the Nuggets in fifth place in the West and the Knicks sliding from fourth to sixth, who really benefited the most from the trade.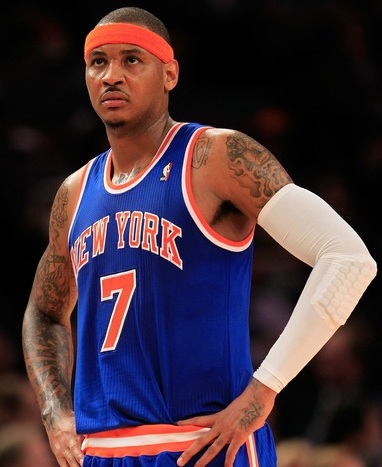 My take
While it may take time for the Knicks to really jell, they gave away quite a bit in the trade, too much in my opinion. Amar'e and Carmelo are less than stellar defenders and against the Celtics or any team in the playoffs, offense alone will not cut it.
The Knicks sent their future off to Denver and while many, including myself, expected the Nuggets to fall, they look as strong as they were before the trade. While many will look at the knocks recent winning streak as a sign that they are finally getting things together, if you look closely enough, most of their wins have been against unimpressive teams.
Jeff Garcia
Long-term the Knicks may end up having the better end of the deal.
Right now everyone is focusing on the Nuggets success post-Melo but you have to understand it will take time for Anthony, and the Knicks to be on the same page. Look at the Miami Heat. The trio of LeBron James, Dwayne Wade, and Chris Bosh took a while to get going on all cylinders. Now, they are sitting at the third spot in the East playoff race and have gone 8-2 in their last 10 games.
With Anthony, New York can attract a high-end free agent — Chris Paul — to build around Amar'e, and Anthony. Now, New York seems to be getting past the growing pains since Anthony joined, and the team has gone on a seven-game winning streak and Carmelo is slowly fitting in.
Sure they will face Boston in the opening round and get shellacked, but in no way should that be an indicator of a failed trade. If New York does the right things in the off-season like adding a solid rebounder, a younger point guard, and stop letting Isaiah Thomas have his hand in Knicks matters, this franchise can quite possibly be on the road to redemption.
Do not get me wrong, I am not taking anything away from Denver and what they received in return. Gallinari, Chandler, and Felton have been playing great and have the Nuggets heading into the playoffs looking great. But even they were not immune to growing pains. They recently lost to the Thunder in grand style. A team they will more than likely face in the opening round.
Matt Yoder
This is one of those rare, ideal trades where both teams emerge a winner. The Knicks desperately needed a star player after settling for Amare Stoudemire in the Summer of LeBron. The Nuggets desperately needed to get something of worth in exchange for their superstar that wanted out of Denver. The answer of who came out better in the deal is nuanced. In the short term, Denver is definitely the winner in terms of wins and losses. The Nuggets are 16-6 without Carmelo, compared to 33-25 with him. On the other hand, New York is only 13-12 with Melo, 28-26 without. In fact, Denver looks like a better version of what the pre-Melo Knicks were, leading the league in scoring with a deep, balanced attack averaging 107.2 PPG. However, Denver's ceiling as a team is nowhere near as high as the Melo Knicks. In the short term, the Knicks satisfied fans with a superstar and someone to bring buzz to the Garden. Although the wins haven't come as fast and furious as anticipated, the foundation is laid in New York for a run at more stars and more wins in the long run around Melo and Amare.
John Karalis
Can I give a non-committal "it depends"? Because who got the best of this trade really depends on what these teams do next. Let's not delude ourselves into thinking that either team was doing anything beyond having minor playoff success as previously constituted. So this trade didn't cost either team anything this year. Denver has gone on a nice run because they were galvanized under the "no one believes in us" umbrella and decided to play some true team basketball. New York has gone on a bit of a slide because it got rid of a lot of moving pieces and added a guy who's not the best fit with its system. If Denver can make use of its upcoming cap space to make a splash, we'll look back on the trade as a win for them. If New York can add the right pieces around Anthony, Billups and Stoudemire… while also making a few adjustments to get everyone playing together, they'll also be looked at as winners. But those things have to happen or else a lot of people will look bad… especially James Dolan (for letting Isiah Thomas pull strings again) and Carmelo Anthony (for making a team that had made some progress regress).
Brendan Bowers
Even though Denver was left far from in shambles as a result of the move, the Knicks still come out on top by the addition of Anthony in this deal. As opposed to the way Bosh left Toronto, James Cleveland, and Stoudemire Phoenix, Denver's forcing of Carmelo's hand this offseason may end up being the new model by which teams in less exciting cities combat the AAU-ism of the modern NBA moving forward. Their front office should be credited for that I think, and with respect to the personnel they received in exchange they were in a lot of ways. The Nuggets are still good in a regular season good kinda way, and they still have George Karl. They'll be alright, and they could very well ride their post-trade momentum right into a first round series win out West as well. If you're looking for that title though you need superstar pieces, and the Knicks are still the only team who got that in this transaction. Now contention for that ring is at least a year away or maybe more, but New York wasn't contending for any titles this season before the trade anyways. In the short-term for the Knicks, regardless of the standings slip since, I'd still prefer my chances against the Heat, Celtics, Magic, or whoever way better rolling in with Melo, Amare, and Billups than I would the pre-trade latter. Even if they are all mired at the moment in a Mike D'Antoni system they really don't look comfortable running.
Philip Rossman-Reich
It is going to be tough to determine who got the better end of this trade for a while. The Knicks definitely made that deal with an eye on the free agent class of 2012 in addition with improving their current team. Immediately though, I think the Nuggets benefited the most, and you can see that in the post-records trade. New York is still a mismatched roster that relies on one-on-one play to make up for their lack of defense. Whereas everyone on Denver seems to have something to prove and that team plays together. It is tough to see either team getting out of the first round, but I like the position Denver is in now with a lot of young players they could potentially package or grow.
What's your take. Let us know and sound off in the comments.