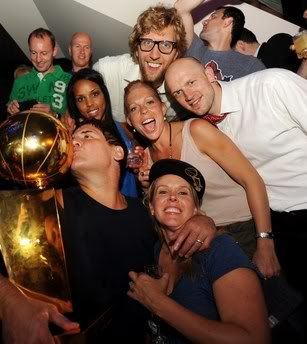 On the court during the NBA Finals, the collective age of the Dallas Mavericks turned out to be a reason why they won their first NBA Championship. They were able to overcome what they lacked in youthful athleticism, as compared to their Miami Heat counterparts, by capitalizing on their years of NBA experience. They proved to be savvy veterans, as opposed to thirty-somethings unable to keep pace with the next generation of superstars.
Unfortunately for the champs, however, all the experience, savvy, Tylenol, and Gatorade chugging in the world isn't helping Dirk and his teammates shake off nights filled with German beers and free-flowing shots quite like they used too.
In the championship celebration that continues down in Dallas, age has finally caught up with the Mavs according to Nowitzki:
"Yeah, we've had some good nights so far, my birthday was in there…we've had a couple of good nights, but I'm 33. My body can't recover, so you have to party one day, and the next day you have to be off. You can't go back to back when you're that old. Partying once in a while gets old. But I'll definitely put in some good work when I get to Germany when I see my friends, definitely be a couple of good nights there."
Great news for Dirk's German friends I suppose, but 33 isn't 28, and it's always tough to watch a world-class athlete no longer be able to do the things he once could. With now the inability to party hard on back-to-back nights, gone for Dirk and his boys are the days of three week benders that end up in Las Vegas somehow. Which is a real shame.
Dirk went on talk about going on one of those benders after losing the Finals five season ago:
"After losing the Finals in '06, I had to go on a three-week drinking binge just to forget everything…That's the funny thing, I am older now than I was then. I actually think we partied harder in '06 when we lost just to forget about it than we did now. In '06, Jet picked me up for the party bus almost every day, and we went somewhere just to make us forget and have a good time. We ended up in Vegas after three hard weeks."
No tigers in the bathroom or face tattoos this summer so far for Dirk and his crew, but it's not because they don't want it as bad as the next guy. Sometimes you just can't hit it as hard as you once could. Happens to everybody though Dirk, don't beat yourself up about it.