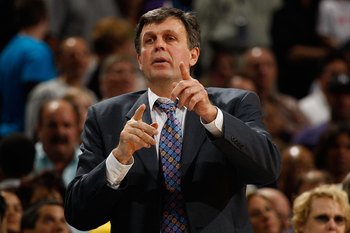 According to Yahoo's Adrian Wojnarowski, former Minnesota Timberwolves coach and GM, and current NBA TV analyst Kevin McHale will interview for the Houston Rockets job. In addition to McHale:
Houston's casting a wide net to find a replacement for Rick Adelman. GM Daryl Morey has a list of interview candidates that includes ex-Cavaliers coach Mike Brown, Dallas assistant Dwane Casey, Milwaukee assistant Kelvin Sampson, Washington assistant Sam Cassell and Houston assistant Jack Sikma.
Kevin didn't have a lot of success in Minnesota… but then again, who has? There has been plenty of speculation that McHale will get hired by former teammate Danny Ainge if Doc Rivers doesn't go back to the Boston bench. Ainge likes former players as coaches, especially with the veteran team he's put together.
But McHale can't afford to wait… especially in light of recent reports that Doc might stick around for a little while. McHale clearly wants to get back on the bench, so he's got to go look for the jobs where they become available.
In all honesty, he might want to hold out to see if Orlando's job opens up. If I'm Otis Smith, I'd really take a long look at having one of the best low-post scorers in league history working with Dwight Howard on a daily basis. Howard's offense has improved this year, but the constant tutelage of a guy like McHale could do wonders for his game, and the Magic by association.