Joe Johnson is about to step into a whole new world.
He has left Atlanta for the bright lights of Brooklyn. He is part of a huge movement by a franchise that has been stuck in the cellar for a long time. Now they have a new place to play, a new look to the team and, for the first time in a long time, it looks like they have some talent.
Johnson is going to be paired with Deron Williams to form one of the most talented backcourts in the NBA. He will have the luxury of an All-Star caliber point guard, something he has not had since he played in Phoenix back in 2005 with Steve Nash.
Johnson has changed a lot since his days as a member of the Suns. He has spent seven seasons in Atlanta as the main guy on the Hawks. There was always a lot of pressure on him to lead the team to success. He never quite made it over the hump and thus never really measured up to the expectations Hawks fans had for him.
In Brooklyn, it is going to be a little different.
Johnson still has the same level of talent, but he is now the number two guy behind Williams. It could be a bit of a shock, but if he accepts his new role, he can thrive.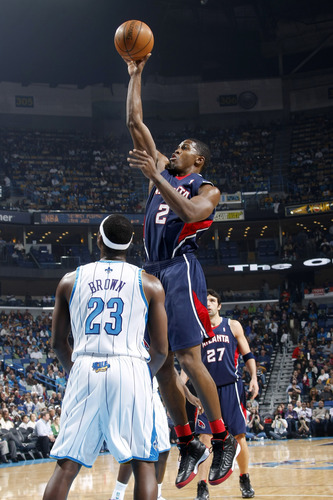 I have always compared Joe Johnson to a guy like Carmelo Anthony. He is a guy that sometimes tries to do too much when it is only hurting his team. Anthony has been trying to put teams on his back and carry them for years. Sometimes it looked like Johnson was trying to do the same in Atlanta.
Now he can share the load with Williams, who will benefit as well. Just like Johnson has not had a great point guard, Williams has been missing a great shooting guard. Teams will no longer be able focus their guard attention solely on Williams because Johnson will make them pay.
This tandem in Brooklyn has a chance to be something great, which Johnson is well aware of, already thinking that the Nets can win it all this year. That is a bit extreme, but they are on their way to being a contender. Hopefully they learn from their New York counterparts and have a better way to mesh talent than the Knicks do.
It starts with Joe Johnson and Deron Williams, where it ends is up to them.
Image: ESPN.com
Will Joe Johnson be the perfect complement to Deron Williams and usher in Brooklyn's Big Apple dominance? Let us know in the comments below or on Twitter by using the hashtag #NetsDay.