The NBA Cares series seems sometimes like nothing more than a commercial.
Insert players A, B and C in a local playground, hospital or classroom for a photo-op. They will push a kid on a swing, stop by to visit a sick patient, or read a book to a collection of third graders.
Thirty seconds and it is over, going unnoticed to the cynic inside us.
How long were they really there? What did it actually do?
It is hard to say how much impact those and other community efforts make on the lives of the people who surround the NBA universe.
Maybe it is more sincere than we think. Maybe every little bit does help. Maybe it is a case-by-case scenario.
Regardless, the recent involvement of the NBA community in the Chicago area this month was inspirational. There is no need to insert a cliche. The Chicago area youth needed help. From somewhere. Not to infer that Joakim Noah, Isiah Thomas, Taj Gibson and others developed a cure for world peace, but they did most certainly help. And they were most certainly needed.
In response to a month of August where Chicago gang violence registered 11 homicides in 5 days, Steve Aschburner from NBA.com reported the following (via NBC ProBasketballTalk):
Last month, (Isiah) Thomas marched with Father Michael Pfleger of St. Sabina to raise awareness about gang violence and Chicago's soaring murder rate. This time, Thomas – along with Joakim Noah, Taj Gibson, Quentin Richardson, Zach Randolph, the Chicago Bears' J'Marcus Webb and others – was trying to bridge the gap between rivals with basketball, using the celebrity of the sports stars to deliver messages about, well, communicating.

"It's a historical event where the gangs are coming together and they're going to play a game involving peace, to stop the killing," Thomas said. "Murder has run rampant in Chicago the last couple years, but gangs are calling a truce for this. By getting them to come together and play a sport, they might come to know each other. We believe it's hard to kill someone if you get to know him."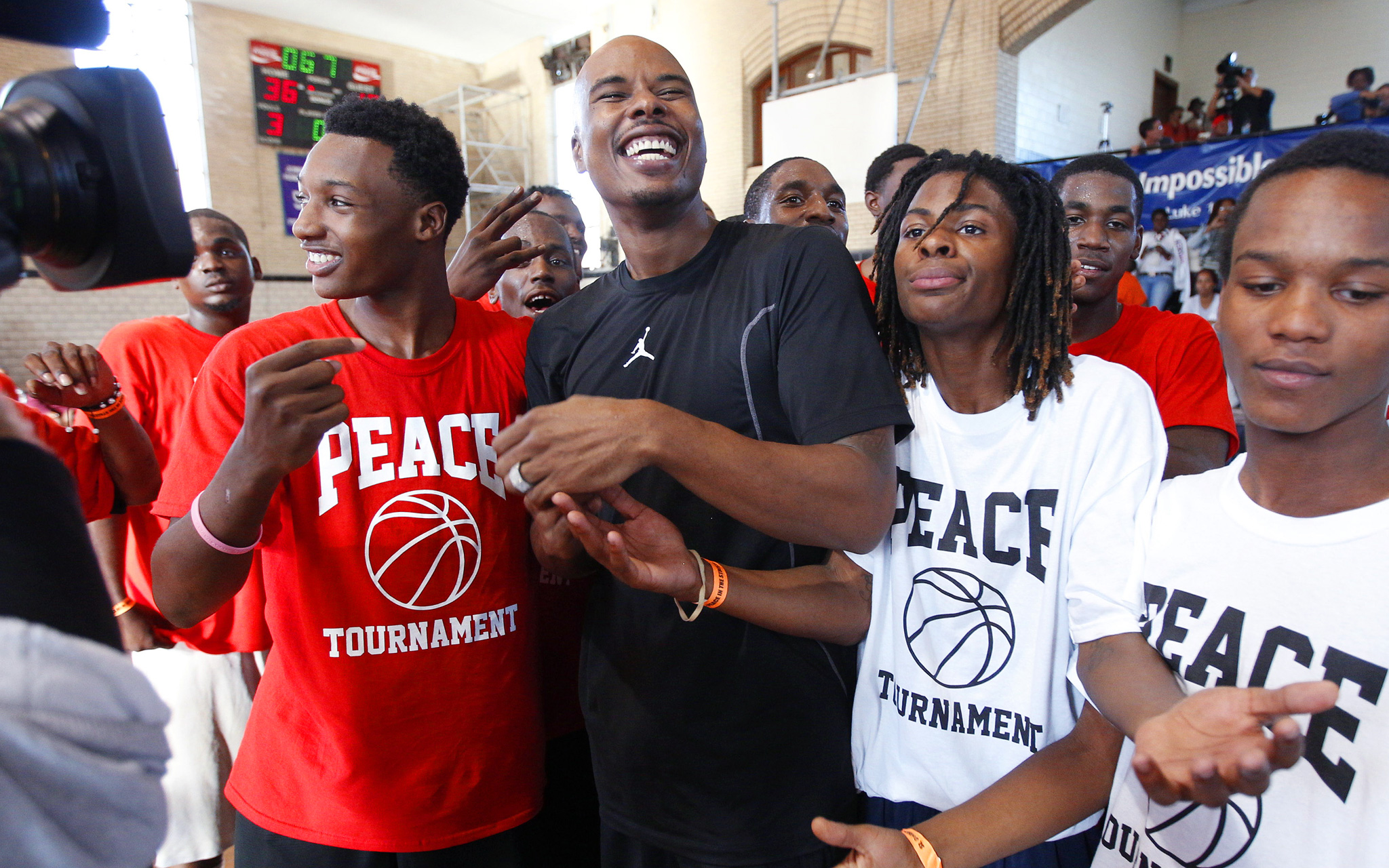 The piece goes on to discuss the game involving rival gang members, with local NBA stars acting as intermediaries. Those players involving themselves directly into the community, and sparking as much change as they can from the inside. Frankly, you cannot have a game like the one they held without the support from those NBA players. They did not need to do it, and they did. It is real caring, and real healing.
Matt Moore from ProBasketballTalk added:
These events go unnoticed, because that's how we're conditioned. This post will get substantially less traffic than whatever explosive nonsense quote we put up in the next 24 hours. And maybe that's a failure on our part to highlight these things. But it's a shared responsibility. Fans, regardless of where they're from or what their lifestyle is, need to take note of these efforts. Awareness needs to be raised, because there's a war going on and we desperately need to bring more attention to it in order to construct more conversation and then resources to solve these problems.
He is right too, it is a shared responsibility. I often wonder if we celebrated these types of efforts from our celebrities more, would they be more inclined to get involved. Or is it something that happens all the time, we just do not take the time to see.